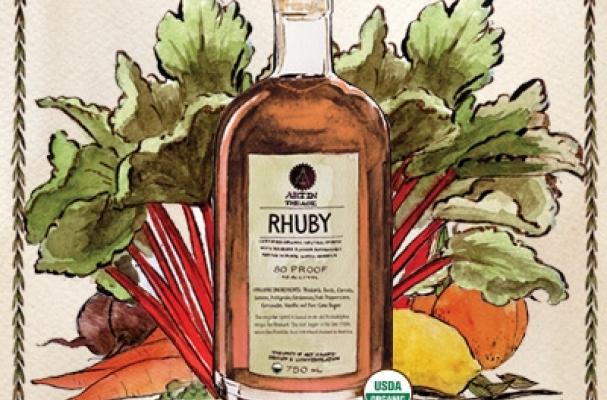 My friends over at Art in the Age in Philadelphia sent me the most lovely bottle of a truly new liquor the other day. Who is Art in the Age you ask? They are the creative minds behind the products like Hendrick's Gin, Sailor Jerry Rum, Snap and the precursor to Root Beer known simply as Root. I actually first tasted Rhuby in the offices of Steven Grasse, the gregarious and intense owner of the Quaker City Mercantile. Steven has a way with something that is known as Brand re-Invigoration. I just call what he does- brilliant. Within the past few years, Steven has sold his product line to the William Grant Company from Scotland, freeing up his career to create new and interesting products, marketing for existing products and the anticipation for new ones.
Rhuby is based on the story of John Bartram the Philadelphia botanist during the 1700's who received seeds for rhubarb from Benjamin Franklin on one of his trips to Europe. Bartram grew rhubarb in his Philadelphia garden then concocted a tea from the rhubarb stalks and used beets, carrots, lemon, petitgrain, cardamom, pink peppercorn, coriander, vanilla, and pure cane sugar.
Of course the always inventive and creative minds of Art in the Age took this recipe and turned Bartram's history into a most unique spirit that is unlike anything on the market. I tasted Rhuby for the second time down in New Orleans at Tales of the Cocktail. They were whipping up different cocktails with this spirit- all delicious- but what I really wanted to do was experiment with this spirit myself and make mixology history with it. My connections in the spirits industry run deep- so I contacted my friend Laura at Art in the Age and asked her to send me a bottle of Rhuby. Last week I received a bottle and the hunt for new and interesting cocktails was on!
(Thank you Laura!)
Rye Whiskey is one of my favorite intoxicants and the hand crafted spirits from Tuthilltown are no exception to my creativity. Tuthilltown is a small batch distiller, just north of New York City. I've championed their tiny 375ml bottles in my cocktail mixology crafting. I also am a fan of the Templeton Rye. My friend Laura Baddish sent me a sample and I just substituted it with the Rhuby. Templeton Rye offers value and high quality.
Faulty Aim Cocktail
Ingredients:
2 shots of Tuthilltown Manhattan Rye Whiskey or Templeton Rye (one thing is for certain, this drink takes Rye Whiskey!)
1 Shot Rhuby (USDA Certified Organic)
A few scant drops of Bitter End Memphis Barbeque Bitters
Really good ice (like Gläce)
Driscoll Organic Strawberries (USDA Certified Organic)
Preparation:
In a cocktail shaker glass, muddle a couple of the Driscoll Strawberries until they are crushed. Add the liquors, then the bitters. Add some regular ice (not too much) Shake and strain into a Coupe' glass that one Gläce gourmet ice cube sits. Sip through and hope your aim improves!
The Devil's Due
Last week, Dan Cohen from Jim Beam sent me a professional sample of their new product known as the Devil's Cut. What is the Devil's Cut? In the parlay of distillation you have the Angel's Share. That is of course what evaporates from the barrel during aging. The Devil's Cut is what soaks into the barrel. There used to be a time when this liquor could not be extracted from the barrel, until now, through a propriatary process, the folks at Jim Beam have invented a method of extracting the soaked liquor from the barrel. Sure this is a time consuming method, but in the end the flavor is much more intense- creamy with deep vanilla notes. I love the stuff!
Ingredients:
2 shots Devil's Cut Bourbon Whiskey *90 proof!*
1 Shot Rhuby
Freshly Squeezed Grapefruit juice *a few tablespoons*
Freshly Squeezed Lemon juice *a few tablespoons*
Chunks of fresh Rhubarb for garnish
Preparation:
To a glass cocktail shaker add the Bourbon and the Rhuby. Then the juices, finally a few drops of the Bolivar Bitters. Shake well until a frost forms on the cocktail mixer.
Serve in a short "Rocks" glass with a couple of ice cubes. Garnish with fresh Rhubarb
Purity Vodka is one of my favorite "new" brands of vodka. They pot still produce this crisply aromatic vodka with all organic ingredients- so in a way, it's a perfect match for the aromatic Rhuby with their own USDA Certified Organic designation.
Large Format Cocktail
Ingredients:
2 Shots Purity Vodka
1/2 shot Rhuby
Spray of Imbue Dry Vermouth from Oregon (marked bittersweet on the label)
Preparation:
Spray the inside of a well chilled Martini glass with dry Vermouth
Chill and stir (don't shake) 2 shots of Purity Vodka and 1/2 shot of Rhuby.
Strain into the Martini Glass and garnish with one gorgeous strawberry, sliced in half to release the juices.
Bluewater Vodka caught my eye as a domestic brand of ultra-premium vodka. I've written about the owner, John Lundin in my series for the Wild River Review named the Five Questions.
Rhuby with notes of the garden fits perfectly into the scope of the Bluewater brand. This I discovered completely by accident- as any mixologist knows is the best way to discover new drinks- by accident!
Accidental Sailor
Another Martini-Like drink- this one makes it easy to splice the main brace.
Ingredients:
2 Shots Bluewater Vodka
1 Shot Rhuby
1/2 Shot Rhum Agricole from JM Rhum (Martinique)
3 Shakes Angostura Bitters
Crushed Strawberries and Rhubarb muddled together with a few chunks of orange and grapefruit
Preparation:
Muddle the citrus fruits with the Angostura Bitters
Add the liquors and some ice cubes
Shake until combined and the shaker is frosty
Strain into a tall cocktail glass with a couple of fresh ice cubes
Garnish with a stalk of Rhubarb and one strawberry sliced to release juices.
Sip through to a night under the stars far out to sea.