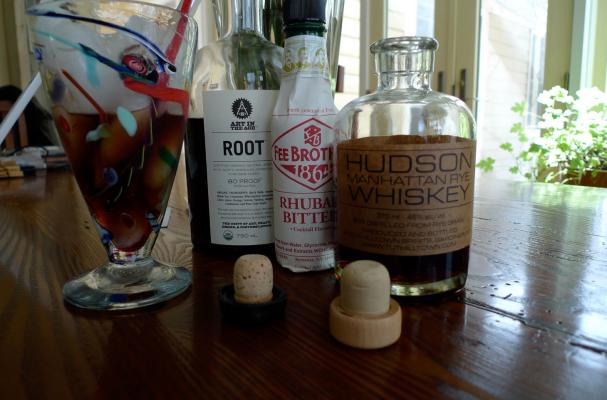 I'm cold. Not just cold from the coming Fall, but from the drinks that seem to do little more than make me buzzed. I want to drink things that warm me up inside. This is not to say that warmth only comes from alcohol. Far from. What I want is creativity through the use of great ingredients. This warms me up inside!
As I like to experiment with new liquors to the market- I'm also interested in using liquors that are familiar to me in a new and interesting manner.
The first drink I call the Zombie Root Carousel. It's a creative little slurp that uses USDA Certified Organic Root- the alcoholic precursor to Root Beer is woven into this drink. It's a creative drink- quite interesting in a way not yet discovered by all. Only a few have discovered Root. That's what makes it very interesting!
In a cocktail shaker, mash several home-made maraschino cherries to a pulp
2 oz. of Tuthilltown Manhattan Rye Whiskey It comes in small bottles topped with wax. Good stuff!
1 oz. Root USDA Certified Organic Liquor
Finish with a shake or two of Fee Brothers Rhubarb Bitters and some freshly scraped ginger root.
Add ice, top with a good cane sugar ginger ale. I recommend Q-Ginger Ale. Shake until frosted, strain and pour over fresh ice in a tall glass.
The next cocktail uses bittersweet chocolate. (Just a bit of the 75% extra-bitter chocolate)
Jockey & Hollow Cocktail
This magical cocktail gains its inspiration from the place of a hidden spring where water flows sweet and clear.
3 oz Root (USDA Certified Organic Root Beer Liquor) 80 proof
2 oz Botran Solera Rum (amazing, find it!)
Freshly scraped bittersweet chocolate 75% bitter or more.
6 oz hand drawn Club soda (you can make it yourself with one tablespoon of fleur de sel in the bottle of water)
Ice made from that hidden spring (crushed) Think branch water!
Bitter End Thai Bitters (These bitters are TRULY amazing, I recommend ordering some today!)
Maraschino Liqueur (just a splash!)
Preparation:
Add fresh ice to a cocktail shaker, add the liquors and the bitters (about four drops or to taste) Add the chocolate shavings and the Maraschino Liqueur. Shake and strain into a short rocks glass where 2 -3 Ice Cubes are in place. Top with club soda from an old-fashioned seltzer bottle with a bit of added salt.
Garnish with a home made brandied cherry. Scrape a bit more bittersweet chocolate over the top.
Makes two lovely, very exotic drinks.
If you use those dyed red cherries in a jar- go to the back of the room, no drinks for you!
Finally, Root and Hot Chocolate seems to hit that warming spot where the heat of the liquor is the basis for the soft elegance of hot chocolate.
This hot cocoa is certainly NOT for the kiddies!
ROOT Hot Chocolate
4 Ounces of the best hot chocolate you can find.
2 shots Root-The USDA Certified Organic Neutral Spirits with North American Herbs and Pure Cane Sugar
1 shot Branca Menta Amaro (super intense mint liquor from Milano, Italy, makers of Fernet Branca)
freshly whipped cream
(there REALLY is no substitute for the real whipped cream, throw out those cans of chemical fluff they call whipped cream)
Prepare a mug with boiling water to heat through and through.
Pour out the water, the mug should be really hot.
Add Branca Menta, then the Root liquor, then top with Hot Chocolate-finish with a large spoonful of freshly whipped cream.. Scrape some fresh nutmeg over the top and reflect on your fine manners by offering your friend a cup first.
….. sip and enjoy! Warren Bobrow