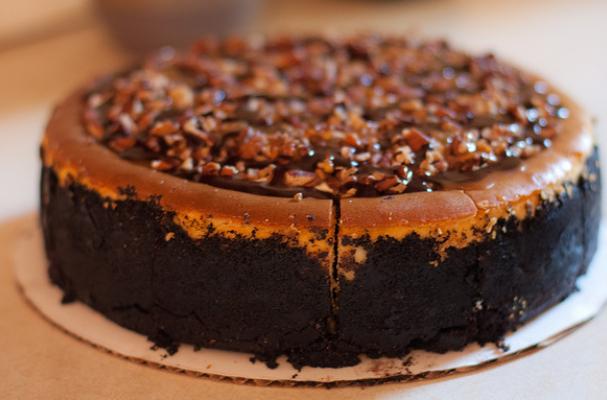 Caramel. Chocolate. Pecans. Pumpkin -- I swear, this gluten free no bake pie is just what dreams are made of! Ready in minutes (yes, really, minutes! Just allow time for it to set in the fridge!), nothing could be easier, more decadent or more perfect for the craziness that can be holiday entertaining. Enjoy!
Gluten Free Turtle Pumpkin Pie
Serves 4-6
1 "Oreo" crust (see below)
1 1/2 c heavy whipping cream
2 Tbsp sugar
2 Tbsp caramel sauce
2 Tbsp chopped pecans
2 (3.4 oz) packages instant vanilla pudding
1 c milk, cold
1 c pumpkin puree (canned is fine)
1/2 tsp cinnamon
Preheat oven to 350°F.
In a large mixing bowl or the bowl of a stand mixer, combine cream and sugar. Beat until stiff peaks form and set aside.
Combine pudding mix, pumpkin, milk and cinnamon in large bowl until well combined. Fold in half of the whipped cream and pour into your prepared crust. Top your pie with the remaining whipped cream, drizzle with caramel sauce and sprinkle the pecans on top. Refrigerate for at least 1 hour (or overnight) before serving.
* You can also try make this in a springform pan, but I would recommend popping the cake in the freezer before unmolding/serving -- just be sure not to let it warm up too much or it might start to collapse!
Gluten Free "Oreo" Crust
1 package gluten free chocolate sandwich cookies (aka Oreos)
1/3 cup butter, melted.
Place cookies and butter in a food processor, pulse until finely ground. Press into a 9-inch pie plate and bake at 350°F for 10 minutes. Set aside to cool.
Image Sources: