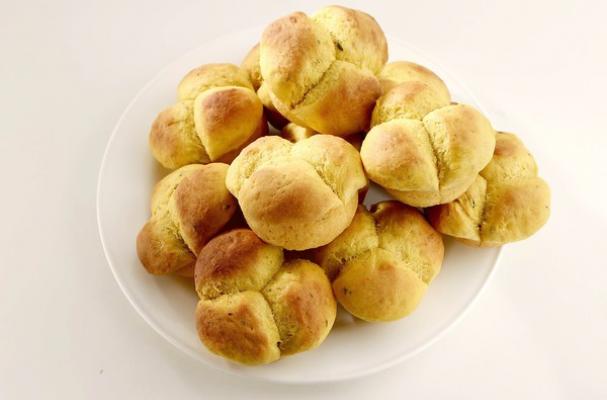 This year for Thanksgiving, the L.A. Times Test Kitchen shared a recipe for the ultimate dinner roll--pumpkin thyme rolls. I had the pleasure of tasting them straight out of the oven and they were absolutely delicious. I was sold right then and there, I had to have these rolls on my Thanksgiving table. They are crisp on the outside and tender on the inside. The pumpkin adds a touch of sweetness and a pinch of cayenne gives the roll just the right amount of spice. These are yeast rolls so they will take some time and prior planning but are definitely worth the extra effort.
Slow Rising Pumpkin Thyme Dinner Rolls
Ingredients:
2 (¼-ounce) envelopes active dry yeast
1/4 cup warm water (110 to 115 degrees)
2 eggs, at room temperature
1 cup canned pumpkin puree
1/2 cup (1 stick) unsalted butter, at room temperature
1/2 cup sugar
2 teaspoons coarse salt
1 tablespoon minced fresh thyme (or 1 teaspoon dried)
1/4 teaspoon cayenne pepper
3 cups flour, plus up to 1 cup more
Olive oil, for greasing bowl
2 tablespoons melted butter
For recipe instructions, click here.
Image Sources: