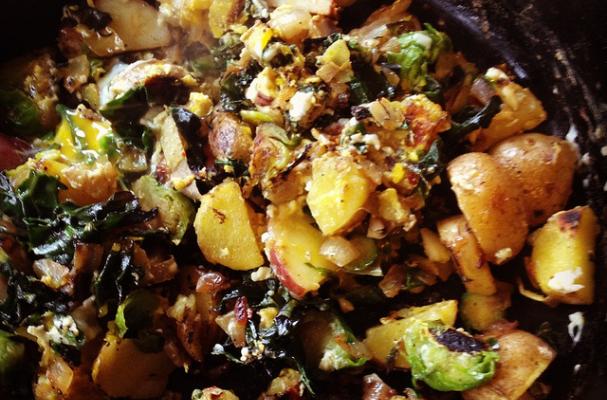 My month on Washington State's Olympic Peninsula continues. After collecting my eggs it was time for lunch. I had potatoes, Brussels sprouts, garlic, onions, and kale; all from Finnriver farm. The best part about the kale is that I walked a few steps (well, it was more of a short stroll) out my door and picked some fresh.
I parboiled my potatoes then added everything to a rockin' hot cast iron pan to make a vegetarian hash. I quickly folded in a couple of the aforementioned eggs to finish. (Full disclosure: there may have been some hot sauce from outside the farm involved in an off-camera incident. Consulting with the folks at Finnriver about chile pepper growing for future hot sauce production.)
I also have to fully disclose that I'm getting fond of the chickens; you can take a look at me feeding them. It is a never-ending source of interest and amusement.
Coming Monday I tour of the surrounding area and eat and drink local.
Image Sources: