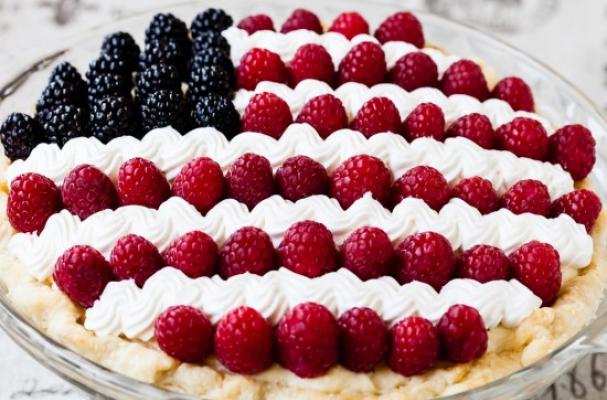 Show your patriotism this 4th of July with a flag pie from The Secret Life of a Chef's Wife. A pie shell (pre-made or homemade) is filled with rich vanilla pastry cream that has been flavored with bananas. Blackberries, raspberries, and whipped cream are arranged to look like the American flag. People will be amazed at your creativity and then compliment your baking skills. Flag pie is guaranteed to be a hit.
Ingredients:
1 pre-baked 9-inch pie crust
Pas­try cream:
2 1/2 cups 1/2 & 1/2, or whole milk
1 tea­spoon vanilla bean paste
1/4 tea­spoon salt
2 eggs + 1 egg yolk
2/3 cup sugar-divided
4–5 table­spoons cornstarch
4 table­spoons butter
2 bananas
Top­ping:
1 cup whip­ping cream
2 table­spoons granulated sugar
1 tea­spoon vanilla bean paste
6–8 oz raspberries
3–4 oz blackberries
For full recipe instructions, click here.
Image Sources: