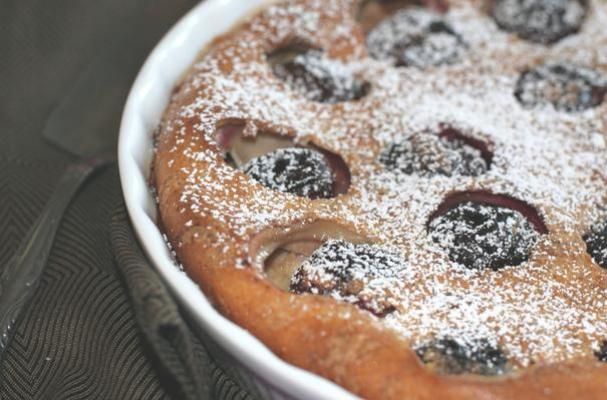 Plums are at their best this time of year and Julia Child's recipe for plum clafouti is the perfect way to use them. You can make clafouti with virtually any fruit (Julia's master recipe in Mastering the Art of French Cooking is for cherry clafouti). This is an easy dish that can be enjoyed for breakfast or dessert. Serve this plum clafouti with a dusting of powdered sugar and a creme anglaise.
Ingredients:
1 pound firm, ripe plums
Boiling water
1/4 cup orange liqueur, kirsch, or cognac
1/3 cup sugar
Milk
3 eggs
1 tablespoon vanilla extract
1/8 teaspoon salt
1/2 cup flour
Powdered sugar for dusting
Directions:
Drop plums in boiling water for exactly 10 seconds. Peel. Slice them or leave whole. Let stand with liqueur, kirsch, or cognac and 1/3 cup sugar for 1 hour. Reserve liquid and add enough milk to measure 1 1/4 cups.
Place liqueur milk mixture along with the eggs, vanilla, salt, and flour in a blender. Cover and blend on high for 1 minute.
Pour a 1/4-inch layer of batter in a baking dish or pie plate. Set over moderate heat for a minute or two until a film of batter has set in the bottom of the dish. remove from heat. Place plums over the batter and pour on the remaining batter; smooth the surface with the back of a spoon.
Place in the middle position of preheated oven and bake for about an hour. The clafouti is done when it has puffed and browned, and a knife plunged into its center comes out clean.
Sprinkle top of clafouti with powdered sugar just before bringing it to the table.
The clafouti need not be served hot, but should still be warm. It will sink down slightly as it cools.
Image Sources: