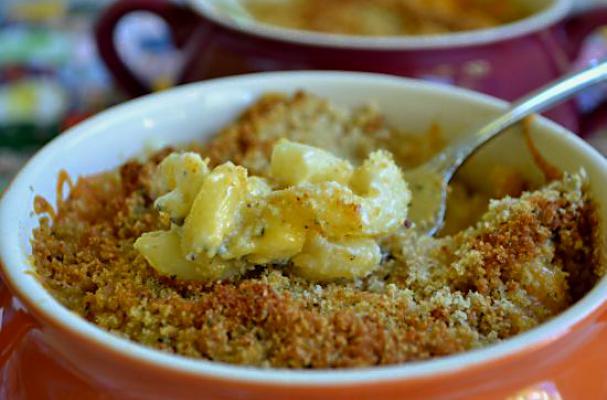 When the weather begins to cool, we turn to our favorite comfort foods to nourish our bodies. Foodista user, Flour On My Face, shares her recipe for classic mac n' cheese. There are no imported cheeses, no bacon or herbs, just plain cheddar cheesy goodness. This simple but delicious recipe will earn you plenty of kudos from your family and friends.
Ingredients:
1 16 ounce box of Elbow Macaroni
1 16 ounce block of Medium Cheddar Cheese
3 cups milk
1 stick of unsalted butter
6 tablespoons flour
1 teaspoon salt
1/2 teaspoon pepper
1/2 cup seasoned bread crumbs
Directions:
Grate the cheese and set aside.
Cook macaroni as per manufacturers directions.
Melt 6 tbs butter in a medium sauce pan over medium low heat.
Slowly sprinkle flour over the melted butter and whisk into a thick paste, about 3 minutes.
Slowly pour one cup of milk into the flour and butter, whisking to break up any lumps. Add salt and pepper and mix.
Add remaining milk, continue to whisk. Turn heat up to medium.
Cook sauce, whisking to prevent scorching for about five minutes or until thickened.
When pasta is done cooking drain well and set aside.
Melt the remaining two tablespoons of butter and stir into the bread crumbs.
Assemble the macaroni and cheese by layering the sauce, cheese and macaroni in a baking dish or individual oven safe bowls.
Top with breadcrumbs and bake at 400 for 20 minutes, until the cheese is melted and the macaroni and cheese is bubbling.
Cool about 10 minutes before serving. Makes about 6-8 servings.
This recipe may be divided in half if you need smaller portions.
Image Sources: