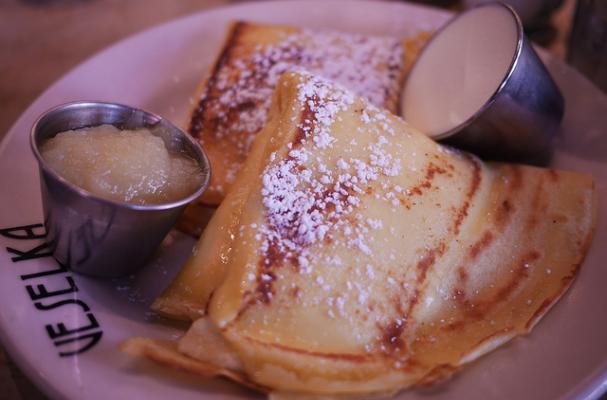 These amazing caramel apple blintzes are perfect for breakfast or dessert. Blintzes are a thin pancake, similar to a crepe, that are traditionally filled with cheese and cooked in butter on the stovetop. This version has a an apple filling and is drizzled with a homemade caramel sauce that is flavored with apple cider. These caramel apple blintzes are sure to impress anyone at first bite.
Caramel Apple Blintzes
Ingredients:
Filling:
2 tablespoons butter
3 tablespoons sugar
4 large golden delicious apples, cored, peeled and cut into ¾ inch dices (about 2 lbs)
1/4 teaspoon ground cinnamon
Caramel Sauce:
3/4 cup sugar
1/4 cup water
1/2 cup apple cider
1/8 teaspoon salt
Blintzes:
1 package ready-to-use square crepes (10 7- inch crepes)
2 tablespoons butter
2 tablespoons vegetable oil
sour cream, for serving
Directions:
For the Filling:
Heat butter and sugar in large nonstick skillet over medium-high heat.
Add apples; cook 10-12 minutes or until tender. Remove from heat; top with cinnamon and let cool.
For the Sauce:
Heat sugar and water in medium-size heavy-bottomed saucepan (not nonstick) over medium-high heat until mixture turns amber, 12-15 minutes , swirling the pan occasionally, and not stirring.
Carefully add cider; simmer until sauce consistency of pancake syrup, about another 5 minutes (sugar should be completely dissolved).
Stir in salt, let cool.
For the Blintzes:
Spoon about 1/3 cup filling into the center of each crepe.
Fold sides of each crepe around filling to form square package.
Refrigerate the packages until ready to cook.
Heat butter and vegetable oil in large nonstick skillet over medium-high heat.
Carefully add blintzes, seam side down; cook about 2 minutes per side or until crispy and browned.
Remove to paper towels; gently pat the blintzes dry. Serve immediately with caramel sauce and sour cream.
If sauce thickens too much, microwave for about 15 seconds; sauce should be served at room temperature.
Image Sources: