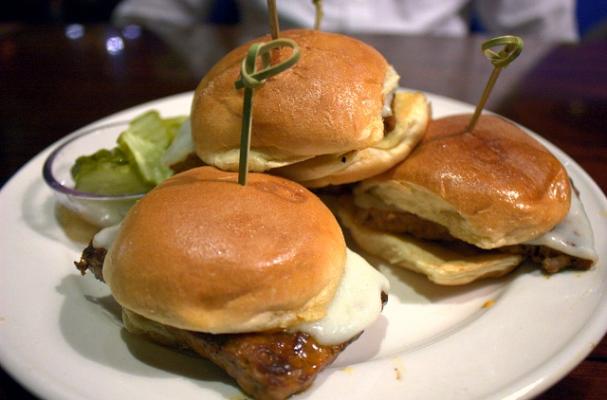 Bocaditos, or "little mouths" in Spanish, are Cuban slider-like sandwiches that are typically served on soft rolls. This bocadito recipe combines Spanish chorizo and ground pork with the delicious flavor of smoked paprika then topped with Manchego, a creamy and piquant Spanish sheep's milk cheese. Serve up these crowd-pleasing little sandwiches at your next party!
Chorizo and Manchego Bocaditos
12 small sandwiches
1/2 pound Spanish chorizo, removed from casing and coarsely chopped
1 3/4 pounds ground pork
1/4 cup Worcestershire sauce
1 tablespoon smoked sweet paprika
Kosher salt and freshly ground black pepper
Extra-virgin olive oil, for drizzling
1/2 pound Manchego cheese, sliced
12 slider rolls, pan Cubano, or Hawaiian sweet rolls
Place the ground chorizo and ground pork in a bowl and season with Worcestershire, smoked paprika, salt and pepper. Add a drizzle of extra-virgin olive oil to the meat mixture and combine. Form 12 patties.
Place sliders in a large skillet over medium-high heat. Cook the sliders 3 minutes per side. Place 2-3 slices of cheese onto the burgers at the last minute to melt.
Serve the sliders on rolls.

Image Sources: