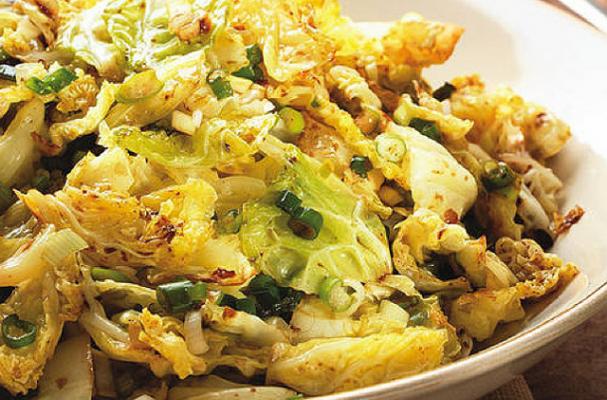 Roasting cabbage brings out the rich, nutty flavor of this versatile vegetable. We think this healthy cabbage recipe would be excellent with chicken and Chinese noodles tossed in or alongside!
Roasted Savoy Cabbage With Black Bean-Garlic Sauce
Courtesy of RecipeRehab.com
1 head Savoy cabbage - cored and cut into 1-inch squares
4 teaspoons canola oil
2 tablespoons rice wine, Shao Hsing, or dry sherry
4 teaspoons black bean garlic sauce
1 bunch green onions - minced
2 teaspoons vinegar, white - distilled
2 teaspoons toasted sesame oil
5 dashes hot sauce, or to taste
Directions
Preheat oven to 500°F. Toss cabbage and canola oil in a large roasting pan and spread out in an even layer. Roast until beginning to wilt and brown, about 15 minutes.
Combine rice wine (or sherry) and black bean sauce in a small bowl; drizzle over the cabbage and toss. Continue roasting until tender, about 5 minutes more.
Toss with scallions, vinegar, sesame oil and hot sauce until combined.
Nutritional Information (per serving)
Calories: 123
Saturated Fat: 1g
Sodium: 485mg
Dietary Fiber: 5g
Total Fat: 8g
Carbs: 12g
Cholesterol: 0mg
Protein: 4g