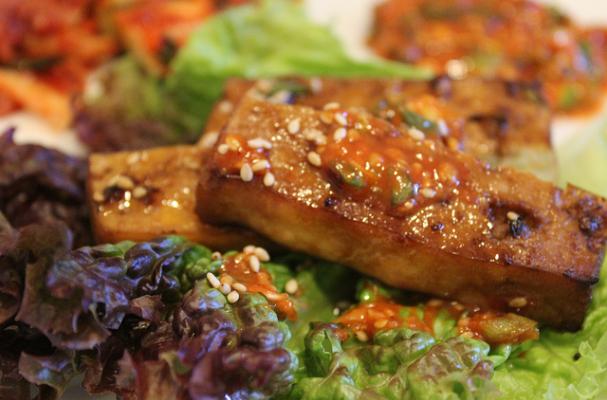 We love the spicy and bold flavors of Korean barbecue but have been eating less meat these days. So when I stumbled upon the terrific marinade and spicy ssamjang wrapping sauce recipes in the June/July 2013 issue of Food & Wine magazine, I thought I'd give it a try with tofu. The result was a delightfully delicious and healthy meal. We opted to use Splenda instead of granulated sugar making this recipe even lower in calories. Tip: save the remaining marinade for future use (though toss if you end up marinating meat).
Korean BBQ-Style Tofu with Ssamjang Sauce
Adapted from Food & Wine
Note: Look for the soy bean and chile pastes in your local Asian market or buy on Amazon.com. Links are provided below.
For the marinade:
8 packets Splenda
6 tablespoons soy sauce
6 tablespoons apple sauce
1/4 cup sesame oil
4 cloves garlic, smashed through a garlic press
2-inch piece of ginger, smashed through a garlic press
Kosher salt and freshly ground black pepper
1 block firm tofu, sliced in 1/4-inch pieces
For the ssamjang sauce:

Yields 2/3 cup
Ssamjang (ssam means "wrapping" and jang means "sauce") sauce is a spicy sauce with deep, bold flavors. A little bit goes a long way, but you will soon become addicted to this tasty sauce!
4 green onions, thinly sliced (white and green parts)
3 tablespoons dwenjang (also called doenjang, a fermented soy bean paste) or red miso
2 1/2 tablespoons gochujang (red chile paste)
2 tablespoons mirin
2 tablespoons toasted sesame seeds
1 teaspoon sesame oil
Red or green leaf lettuce leaves for wrapping
Cooked short grain brown rice
To make the marinade:
In a large bowl, combine the Splenda, soy sauce, apple juice, sesame oil, garlic and ginger with a pinch of salt and pepper. Pour into a large zipper plastic bag, add tofu slices, seal and let marinate 1-2 hours.
In the meantime, make the ssamjang sauce. In a small bowl, mix all ingredients together (store leftovers in refrigerator).
Remove tofu from baggie and save the remaining sauce. Broil tofu for about 15 minutes, flipping halfway through, or until slightly browned.
Serve tofu wrapped in red or green leaf lettuce leaves with rice and ssamjang sauce.