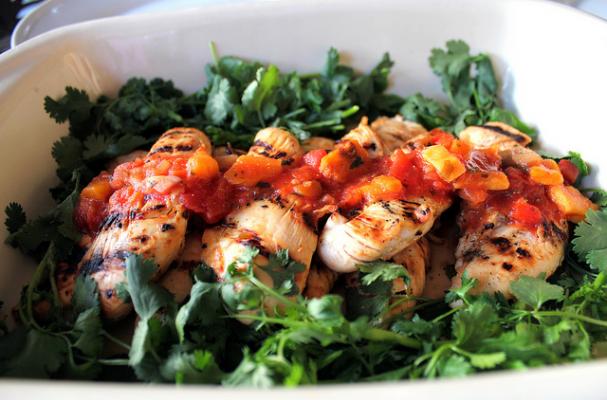 A beautiful and delicious outdoor party doesn't have to be difficult or expensive. You won't break a sweat preparing this tasty 6-course meal, and it will only cost you around $75 (with plenty of leftovers)! From a refreshing springtime cocktail to everybody loves 'em ice cream sandwiches, your outdoor party is sure to be a hit.
~The Wine Cocktail~
Start your outdoor party off with a refreshing and easy white sangria. Also known as clericot, this fruity wine-based drink is perfect for outdoor entertaining. Inexpensive white wine (box or bottle) is livened up with fresh and frozen fruits. Adding frozen fruits helps keep the wine from diluting quickly in warm weather. Tip: you can also freeze sliced or chopped fruit in ice cube trays for a lovely presentation! Try oranges, sliced bananas, and other berries as well.
Refreshing and Easy White Sangria
Makes 1.5 liters
2 bottles white wine such as pinot gris or sauvignon blanc
2 grapefruits, sliced 1/4-inch thick with rind on
1 package Archer Farms® frozen blueberries
1 pint fresh strawberries, sliced
Fill a large glass pitcher half way with ice. Pour in white wine; add fruit and gently stir. Serve immediately.
~The "No really, it's this easy!" Appetizer~
These tasty cheese crackers are a quick and easy appetizer. They add a festive splash of color to any party table!
Easy Cheese Crisps with Artichoke Spinach Dip and Tomatoes
1 box Archer Farms® Cheddar & Asiago Sourdough Squares
1 12-ounce package Archer Farms® Artichoke Spinach Dip
Cherry tomatoes, halved or quartered
Top each cracker with a dollop of artichoke spinach dip, then top each with a half or quarter (depending on size of tomato) of a cherry tomato.
~The Simple and Spectacular Green Salad~
Raspberry Acai Dressed Salad with Blue Cheese, Fruit and Pecans
1 cup Archer Farms® Raw Pecans, toasted
1 large head red or green leaf lettuce
Archer Farms® Raspberry Acai Vinaigrette Salad Dressing
1 4-ounce package crumbled blue cheese
1 package Archer Farms® Montmorency Dried Cherries
1 grapefruit, cut into segments (also known as supremes)
Kosher salt and freshly ground black pepper, to taste
In a small sauté pan on medium-high heat, toast pecans until slightly browned, tossing or stirring frequently to prevent burning. Set aside and allow pecans to cool.
Thoroughly wash and dry lettuce, then tear leaves into bite size pieces. Place in a large bowl and toss with vinaigrette to taste.
Add blue cheese, cherries, pecans and grapefruit. Season with salt and pepper, and gently toss until well-combine. Serve immediately.
Tip for individual plating: dress lettuce only and place an equal amount on each salad plate. Garnish the top of each with blue cheese, dried cherries, pecans, and a few sections of grapefruit. Season with freshly ground black pepper and a small pinch of salt.
~The Springtime Gluten Free Pasta Salad~
This easy gluten free pasta salad can be served at any temperature - chilled, warm or hot! You can even make it a day ahead and freshen it up with a splash of the olive oil. The bright colors of the vegetables (yellow carrots, green beans, red peppers, zucchini), red onion, and cherry tomatoes add a lovely splash of springtime color!
Gluten Free Pasta Salad with Mediterranean Vegetables

Serves 4-6
1/2 package Archer Farms® Gluten Free Fusili Pasta
1 package Archer Farms® Frozen Mediterranean-Style Blend Vegetables

1/2 small red onion, diced
1 pint cherry tomatoes, halved
Archer Farms® Roasted Garlic & Herb Extra Virgin Olive Oil
1/3 cup red wine vinegar, or to taste
Kosher salt and black pepper, to taste
Fill a stockpot with water. Generously salt the water (salty like the sea!) and bring to a boil.
Add pasta and cook until done, about 10 minutes.
Meanwhile, quickly steam vegetables (about 2-3 minutes) or cook, covered, in a microwave for about 1 minute. Drain off any water and set aside.
Drain cooked pasta and transfer to a large bowl. Add vegetables, onions and tomatoes; season to taste with Roasted Garlic & Herb Extra Virgin Olive Oil and red wine vinegar. Season with salt and pepper; adjust seasonings to taste. Transfer to a large serving bowl or deep platter. Serve warm or chilled.
~The Easy Grilled Chicken Recipe~
The great thing about this easy chicken recipe is, like the pasta salad, it's delicious served at any temperature - chilled, warm, or hot off the grill - making it the perfect dish for outdoor parties or picnics. You can use any cut of chicken - breasts, thighs or tenders. We chose tenders because they cook up quickly and retain their tender texture. For another fun presentation, try the chicken on skewers!
Chile Lime Marinated Chicken with Mango Salsa
Serves 4-6
12-18 chicken tenders, thawed if frozen
3/4 bottle of Archer Farms® Chile Lime Grilling Sauce
1 container Archer Farms® Fresh Mango Salsa (or 1 jar Archer Farms® Original Mango Peach Medium Thick & Chunky Salsa)
Optional garnish: fresh cilantro leaves or lettuce
Place chicken in a large sealable plastic bag. Add Chile Lime Grilling Sauce and marinate in refrigerator for 30 minutes to one hour.
Place chicken on barbecue and grill 2-3 minutes minutes on both sides, or until no longer pink in center.
To serve, place cilantro or lettuce leaves on a platter. Place chicken in the middle and spoon Mango Salsa on top. May be served chilled, room temperature, or hot off the grill.
~The Ice Cream Shoppe Dessert~
Easy Ice Cream Sandwiches
Makes 9 sandwiches
2 packages Archer Farms® Dark Chocolate Filled Wafer Cookies
Your favorite ice cream or sorbet flavors!
Place cookies in freezer for 30 minutes (this will help keep the ice cream from melting while assembling).
Place a large scoop of ice cream in the center of a cookie and gently spread 1/2-1-inch thick until it reaches the edge. Place another cookie on top and immediately place on a plate in the freezer. Repeat until all sandwiches have been made. Freeze for at least one hour before serving.

Brought to you by Archer Farms only at Target.