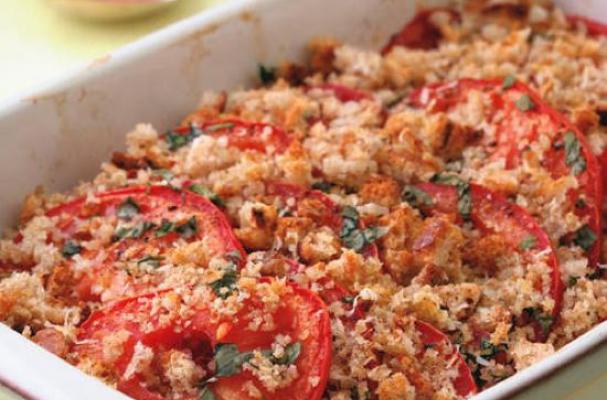 A garden-fresh tomato gratin is the perfect dish for a summertime meatless Monday meal! This easy tomato recipe from Recipe Rehab is light, healthy and easy to make. Sweet tomatoes are topped with buttery breadcrumbs (or cheese) and herbs then baked until the top is nice and crispy.
Tomato Gratin
Serves 6
4 slices 100% whole-wheat bread - torn into quarters
1 tablespoon garlic, minced
1 tablespoon extra virgin olive oil
1/3 cup pecorino romano or Parmesan cheese, grated
4 medium tomatoes - sliced
4 medium tomatoes - sliced
1/4 cup fresh basil - chopped
1/2 teaspoon black ground pepper
1/4 teaspoon salt
Click here for the instructions.