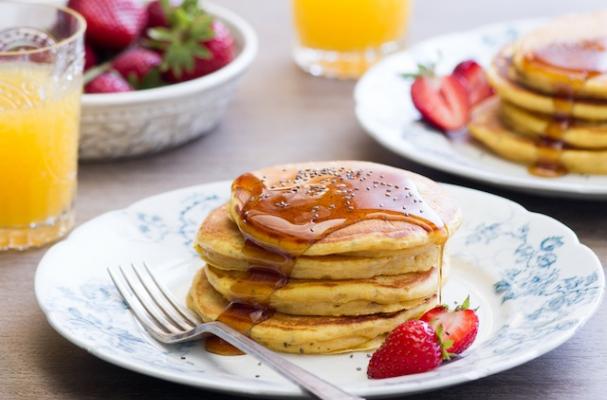 Pumpkin chia seed pancakes are a delicious way to start the day. Usually we don't have time to cook up a breakfast that's out of the ordinary so take advantage of you day off and make yourself something special.
Pumpkin Chia Seed Pancakes
Recipe Courtesy of Nestle
Ingredients:
2 cups all-purpose flour or white whole-wheat flour
1 1/2 teaspoons baking powder
1 1/2 teaspoons ground cinnamon (optional)
1/2 teaspoon baking soda
1/2 teaspoon salt
2 cups lowfat buttermilk
2 large eggs
1/2 cup LIBBY'S® 100% Pure Pumpkin
2 tablespoons honey, granulated sugar or packed brown sugar
3 tablespoons unsalted butter, melted and cooled
2 tablespoons chia seeds, plus more for garnish
Nonstick cooking spray
Pure maple syrup
Directions:
Combine flour, baking powder, cinnamon, baking soda and salt in large bowl.
Whisk together buttermilk, eggs, pumpkin, honey and butter in large bowl. Add to flour mixture; stir until combined. Do not over mix. Let batter sit for 10 minutes; stir in chia seeds.
Spray griddle or a large nonstick skillet with cooking spray and heat over medium-high heat. Pour ¼ cup batter for each pancake into skillet and cook for about 2 minutes or until edges are set and look dry. Flip over and cook for an additional 2 minutes or until golden brown. Top with syrup and additional chia seeds.
Image Sources: