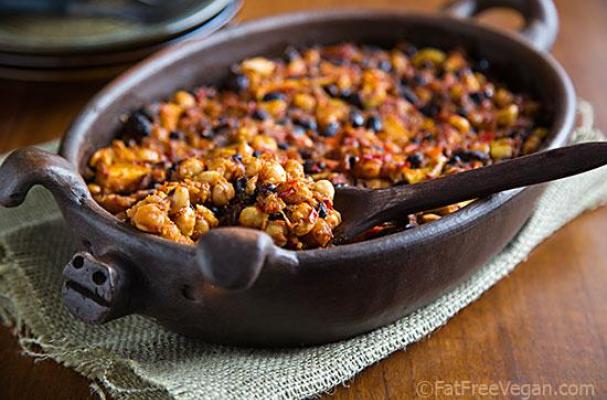 This sweet and spicy three-bean casserole is good for your heart -- and vegan, too! Sweetened with dates and apples, and thickened with tomatoes and the beans' natural starches, this baked bean dish from FatFree Vegan Kitchen is a healthier alternative to bacon-and-sugar-laced varieties.
Smoky Apple Baked Beans
Courtesy of FatFree Vegan Kitchen
Ingredients:
2 large onions, finely chopped
1 large red or green bell pepper, finely chopped
8 garlic cloves, minced
1 large apple, chopped
1 15-ounce can black beans, rinsed and drained
1 15-ounce can chickpeas, rinsed and drained
1 15-ounce can great northern beans, rinsed and drained
1 8-ounce can tomato sauce
3 medjool dates, pitted and roughly chopped (see note)
1 tablespoon cider vinegar
1 tablespoon Dijon mustard
2 teaspoons soy sauce or gluten-free tamari
1 teaspoon smoked paprika
1 teaspoon Liquid Smoke or smoked salt to taste
1 teaspoon freshly ground black pepper
1/4 teaspoon ground chipotle pepper
Preheat oven to 350°.
Heat a large nonstick skillet over medium-high heat. Add the onion and saute until it begins to soften, about 3 minutes. Add bell pepper and minced garlic to the pan and sauté for another 3 minutes, stirring occasionally. Add the apple and cook for another minute. Add the beans and remove from heat.
Combine tomato sauce and all remaining ingredients in blender. Blend at high speed until the dates are completely smooth. Pour this sauce into the onion and beans, and stir well. Spoon mixture into an 11 x 7-inch non-metal, lightly-oiled baking dish. Cover and bake at 350° for 30 minutes. Uncover and bake an additional 30 minutes.
Image Sources: