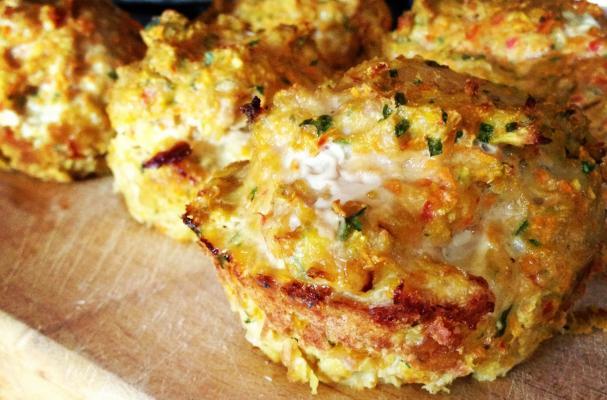 Getting vegetables into your kids' diet can sometimes be a challenge. Angela at LeMoine Family Kitchen has solved that problem with her scrumptious mini meatloaf recipe. She packs veggies (use a bunch of your own favorites!) and ground chicken into a muffin pan then tops them with a simple garlic and zucchini tomato sauce. Her sons give them two thumbs up and we think your family will do the same!
Chicken and Vegetable Meatloaf Muffins
Sumbitted to Foodista by LeMoine Family Kitchen
Makes 6 muffins
1 lb ground chicken
10-12 baby carrots or 3 large carrots
1/2 red bell pepper
4 cloves garlic
handful of fresh parsley
1 egg
1/2 cup garbanzo bean flour (baking aisle at the grocery store)
salt and pepper
for the sauce:
1- 28 oz can tomato puree
1 zucchini, diced
3 cloves garlic, sliced
2 tsp oregano
salt and pepper
To make the sauce... Into a pot add a small drizzle of olive oil. Add in the oregano, garlic and zucchini and cook until softened and lightly golden. Add in the tomato puree, season with salt and pepper. Simmer for an hour or two.
Now for the meatloaf muffins... Pop the carrots, bell pepper, garlic and parsley into a food processor and pulse until very finely chopped. Place into a bowl.
Add the ground chicken, egg, garbanzo bean flour, salt and pepper to the bowl. Mix until just combined.
Spray a muffin pan lightly with olive oil to prevent sticking. Scoop the meatloaf mixture into the pan. Bake at 375 degrees for about 25 minutes.