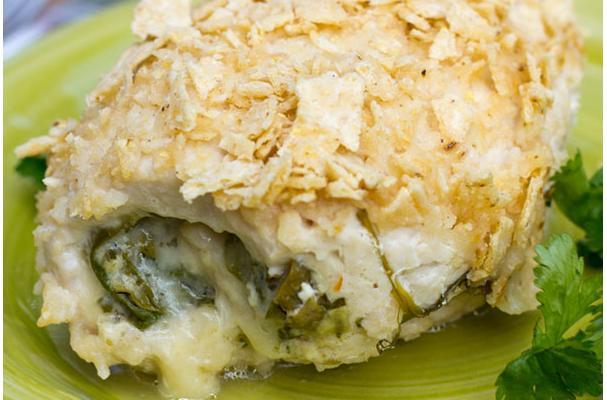 Looking for an easy chicken recipe to add to your weeknight dinner repertoire? Add this delicious Mexican-style stuffed chicken breasts dish from Mommie Cooks to your list of must-makes! Simply stuff slightly flattened chicken breasts with a flavorful combination of cream cheese, green salsa, cilantro and spices, roll up the chicken and top with more sauce, spinach and cheese. Finally, roll chicken in crushed tortilla chips and bake for 30 minutes. Arrrrriba, that sounds good! This is one tasty meal the whole family will love!
Mexi Chicken Roll-Ups
Submitted to Foodista by Mommie Cooks
Serves 6
4 Oz Cream Cheese
1/2 cup Salsa Verde
1 Small Bunch Cilantro, Chopped
1 teaspoon Cumin
1/2 teaspoon Garlic Powder
6 Chicken Breasts
3 ounces Fresh Spinach
3 Oz Pepper Jack Cheese, Shredded
6 ounces Tortilla Chips, Crushed
Flatten out the chicken breasts to about 1/4" thickness.
Blend together the cream cheese, salsa, cilantro, cumin and garlic powder to form a sauce.
Spread spoonful of sauce across each breast. Top with spinach leaves and then cheese.
Roll closed and cover in crushed tortilla chips.
Bake at 350 covered for 30 to 35 minutes or until chicken is cooked through.