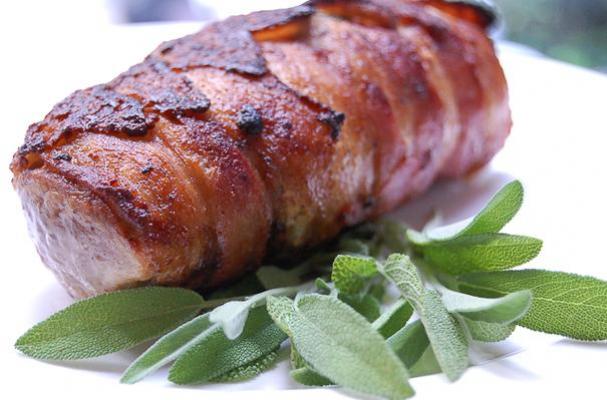 Bacon lovers will rejoice in these delicious and beautifully wrapped pork tenderloins. Just a few ingredients is all you need to make this lovely dinner. cook.eat.love first seasons her tenderloins, places fresh sage leaves on top, lays the bacon in an overlap pattern over the meat, then rolls it up and sears it on all sides. It's an elegant dinner for any night of the week!
Bacon-wrapped Pork Tenderloin
Submitted to Foodista by cook.eat.love
2 pounds pork tenderloin
Coarse salt
Freshly ground black pepper
Fresh sage
Garlic powder
8 slices of bacon
Remove about ½ inch off the tapered end of each tenderloin to make a perfect cylinder.
Season with salt, pepper, and a pinch of garlic powder.
Lay the bacon strips in a overlapping line on a sheet of cling wrap. Place sage leaves all over bacon (about 9-10).
Place 1 piece of tenderloin across the short ends of the bacon and roll to cover with the bacon.
Repeat with the other tenderloin segments. The bacon-wrapped tenderloins can be wrapped in plastic and stored in the refrigerator for up to 2 days. When ready to proceed, allow them to warm to room temperature.
Preheat oven to 425 C
Place the tenderloin in non-stick pan and sear on all sides over medium-high heat.
Brown the tenderloin well on the first side for 2-3 minutes.
Turn and cook on all sides, about 2 minutes per side.
Transfer the pan to the preheated oven and cook for 8-10 minutes, turning the pieces after 5 minutes to ensure even cooking.
Categories: