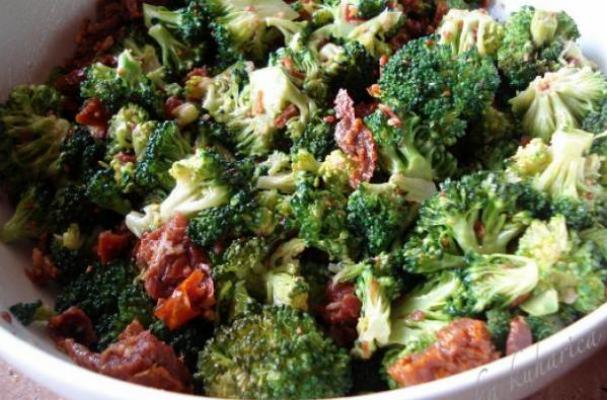 Blanching small broccoli florets keeps them slightly crisp but creates a softer, mellower flavor that pairs well with meats and oils. This easy broccoli salad recipe combines blanched florets with bits of cooked bacon, sun-dried tomatoes and a rich Dijon mustard vinaigrette.
Ingredients:
Salad
2 heads of broccoli (about 700 g, cleaned)
120 g bacon or pancetta, finely sliced
1 tbs olive oil
80-100 g dried tomatoes in oil, drained and cut into small pieces
Dressing
1 clove garlic, crushed
2 tbs Dijon mustard
4 tbs olive oil
2 tbs wine vinegar
¼ tsp sea salt
½ tsp pepper
Remove the broccoli florets and cut them up into smaller ones. Finely slice the green stalks, discard the thick dry base.
Blanch the broccoli florets in boiling water for 1-2 minutes, long enough to soften the broccoli but still leave it al dente OR in very little water in a microwave oven for 2-4 minutes on MAX (check after 2 minutes for crispness).
Drain in a colander and leave to dry or wrap in a paper towel to dry (this is important because it will help the dressing cling to the broccoli).
Fry the bacon in olive oil on medium heat until crisp and golden.
Remove from the pan with a slotted spoon to drain on a paper towel. Wrap and crumble it with gentle pressure. Use the leftover fat in the pan for the salad dressing(about 2 tablespoons).
Whisk all the dressing ingredients with 2 tablespoons of the leftover fat in a mixing bowl. Add the sliced dry tomatoes.
Place the broccoli in a salad bowl, add the dressing, sprinkle with crushed crispy bacon, season with salt and pepper. Toss thoroughly so the broccoli is evenly coated with the dressing.
Image Sources:
Categories: