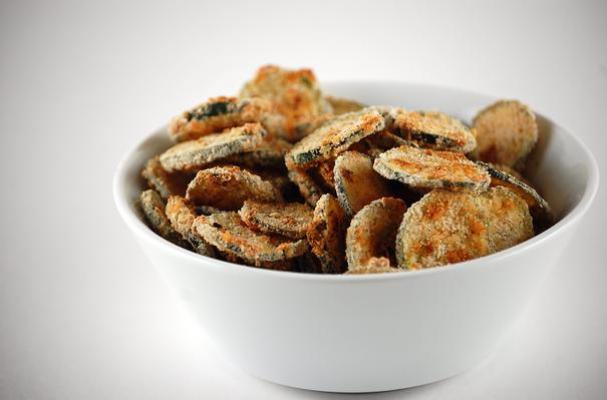 Ditch the potato chips and reach for these healthier baked zucchini chips instead! They'll still satisfy that salty and crunchy flavor, but without all the added fat and calories. This tasty snack is easy to make and everyone will love them!
Baked Zucchini Chips
Submitted to Foodista by Natalie's Cuisine
3 Zucchini
1/4 cup Parmesan, grated
1/2 cup Bread Crumbs
1 teaspoon Garlic Powder
1 teaspoon Onion Powder
1 teaspoon Dried Parsley
1 teaspoon Black Pepper
1/2 teaspoon Paprika
2 Egg Whites
Preheat oven to 450 degrees
Slice zucchini as thinly and uniform as possible (this is when having a mandolin comes handy).
Place on a paper towel for at least 10 minutes to let excess moisture drain. Mix together all the dry ingredients. In a bowl whisk the egg whites until frothy.
Place the zucchini in the egg mixture, then coat in the bread crumb mixture. Place on a baking sheet and when the baking sheet is full, bake for 5 minutes. Pull out the baking sheet and flip over the zucchini chips. Return to the oven for another 7 minutes.
Serve warm with fresh grated Parmesan cheese (optional).