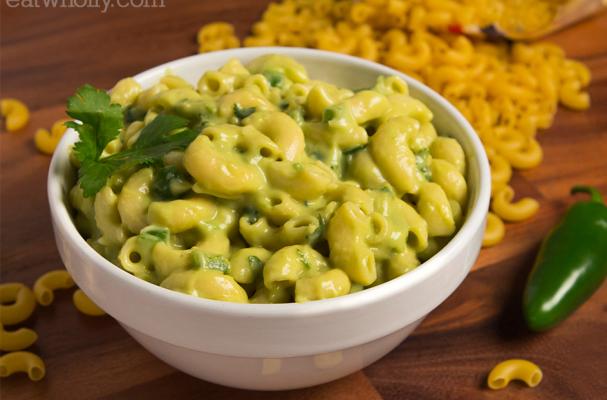 Guacamole mac n' cheese is tasty green meal to celebrate St. Patrick's Day. This mac n' cheese recipe is far from the traditional version, it has a definite kick of spice from the pepper jack cheese and jalapenos. The chopped cilantro adds freshness and an herbal flavor. Spicy guacamole mac n' cheese is a festive and delicious meal for this very green holiday.
Spicy Guacamole Mac n' Cheese
2 tablespoons butter
2 tablespoons all-purpose flour
2 cups milk
2 cups shredded pepper jack cheese
1 cup shredded cheddar cheese
8 ounce package elbow macaroni
1 (7 ounce) package of Wholly Guacamole Classic dip
2 tablespoons chopped cilantro
2 jalapenos, seeded and diced
In a separate pot, bring water to a boil. Add macaroni noodles and cook for 8-10 minutes or until noodles are cooked. Carefully drain and set aside.
Melt butter in a saucepan over medium heat.
Stir in flour and cook for 1 minute, stir constantly with a whisk. Be careful not to burn the flour mixture. Stir in milk and continue stirring until mixture boils and becomes thick.
Once mixture has thickened add shredded cheese; stir until cheese has melted. Sauce should be creamy and smooth.
In a large mixing bowl, combine Wholly Guacamole dip, cilantro and jalapenos. Add drained, cooked noodles and cheese sauce.
Gently stir until all ingredients are well distributed. Garnish with cilantro.
Editorial disclosure: Foodista received no payment for this post.
Image Sources: