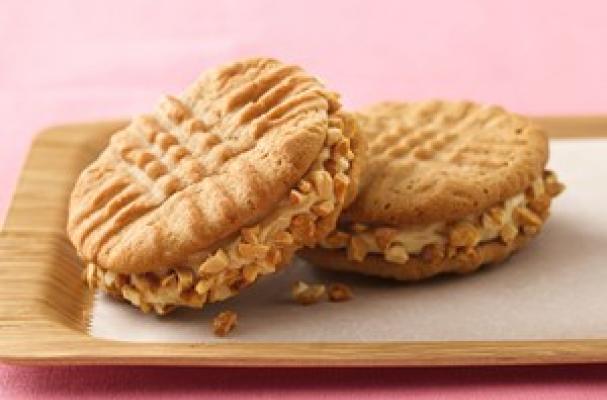 Peanut butter cookies are classic. This recipe dresses up store bought peanut butter cookie dough by pairing it with a homemade cream cheese filling. Cream cheese, peanut butter, honey and powdered sugar are beat together until smooth and then spread over the cookies. Once sandwiched together, the cookies are rolled in chopped honey roasted peanuts. If you love the combination of chocolate and peanut butter, you can opt for rolling in mini chocolate chips instead. These cookies are super simple and super delicious!
Jumbo Honey Roasted Peanut Butter Sandwich Cookies
2 packages (8 oz each) cream cheese, softened
1/2 cup Jif® creamy peanut butter
2 tablespoons honey
1 cup powdered sugar
1 roll Pillsbury® refrigerated peanut butter cookie dough
3/4 to 1 cup honey-roasted dry-roasted peanuts, coarsely chopped
In large bowl, beat cream cheese, peanut butter and honey with electric mixer on medium speed until smooth. Add powdered sugar; beat just until smooth. Cover; refrigerate at least 1 hour while baking and cooling cookies.
Heat oven to 350°F. Make cookies as directed on package. Cool completely.
Spread 1/3 cup cream cheese mixture on bottom of 1 cookie; top with another cookie, bottom side down. Press cookies together slightly so cream cheese mixture just extends past edges of cookies. Roll edge of cream cheese mixture in chopped peanuts to generously coat. Repeat with remaining cookies.
Serve immediately, or store in single layer tightly covered in refrigerator up to 4 hours (cookies stored longer become very soft).
Editorial Disclosure: Foodista was not paid for this post
Image Sources: