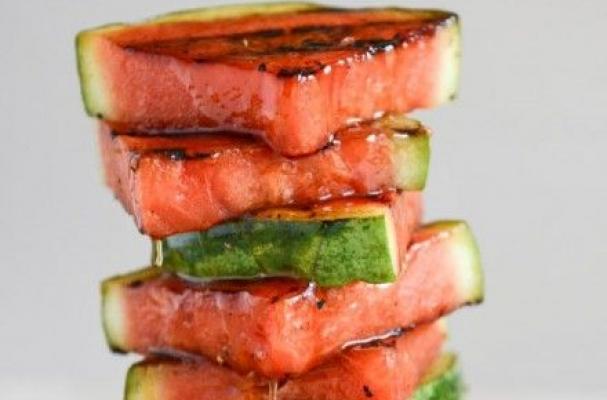 Watermelon is the quintessential summertime treat, but it is often reserved for the kids. The good news is that watermelon has the potential to be so much more than a slice. Check out some of these delicious watermelon recipes, all with an adult kick. From spicy peppers, to a boozy ingredient, here are 3 watermelon treats that will bring out the kid in all the adults at the party. So delicious!
Honey Grilled Watermelon
From Angie Petrusha
Fire up that grill for more than just the main dish. This honey grilled watermelon takes on an entirely new flavor, when heated over a smoky grill and drizzled with honey to flavor it all. No fancy ingredients, but the flavor is exceptional.
From Gimme Some Oven
Your taste buds will be dancing with every bite you take of this hot/cool delightful salsa. Quick and easy to assemble, guests won't know what to think when they bite into cool, juicy bites of watermelon and then are hit with the bite of jalapeno pepper bits. It's going to be the star of your next summer supper!
Watermelon Feta Appetizer Bites
From Add a Pinch
Sweet, salty, cool, and tangy-these watermelon bites are the perfect addition to your cocktail party. They remind you of how good simple flavors can be. We love them because they truly are a bite of summer.
Image Sources:
Categories: