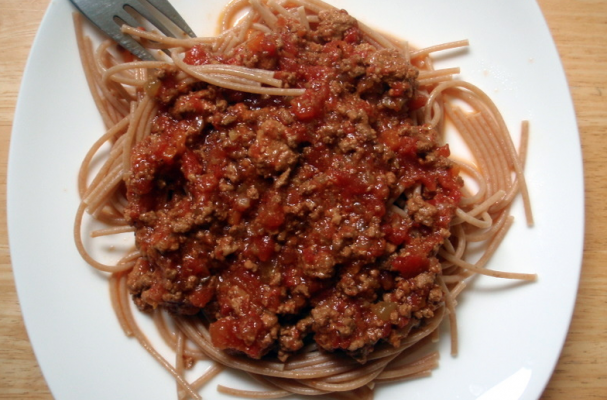 Pasta with a thick and rich tomato sauce is always a crowd pleaser. This wheatless version allows gluten-free eaters to enjoy this classic Italian comfort food. To keep the meal light, ground turkey is substituted for the combination of ground meats (usually pork, veal and beef). You can prepare the sauce on the fly in a large skillet or dutch oven or in a slow cooker. Since this dish is gluten-free you can use your favorite brand of gluten-free noodles (usually made from brown rice or corn) or bake and shred spaghetti squash to serve with the sauce. While you may have to sacrifice wheat as gluten-free eater, you don't have to sacrifice flavor.
Gluten-Free Ground Turkey Bolognese
2 tablespoons extra virgin olive oil
1 onion, chopped into a small dice
2 stalks celery, chopped into a small dice
2 carrots, peeled and chopped into a small dice
3 cloves garlic, minced
2 teaspoons dried thyme
2 teaspoons dried oregano
1 bay leaf
1/2 teaspoon cinnamon
1/8 teaspoon nutmeg
salt and pepper
1 pound ground turkey
3 cups tomato puree
2 tablespoons tomato paste
1/2 cup gluten-free chicken stock
1 package gluten-free linguine or spaghetti (or spaghetti squash)
In a large skillet, heat olive oil and add the onion, celery, carrot and garlic. Cook the vegetables until soft,, stirring occasionally for 5 minutes. Add thyme, oregano, salt and pepper and stir the ingredients together and cook for 1 minute. Add the turkey and using a flat wooden spatula, break up the meat so it can cook thoroughly. Once the turkey is cooked (no pink), add the tomato puree, tomato paste, bay leaf and chicken stock. Let the sauce simmer for 20 minutes until slightly thickened and the turkey tender.
Meanwhile, cook the pasta according to package directions. Drain the pasta and return it to the pot. Stir in nutmeg and cinnamon to the meat mixture and toss with the pasta.
Serve with parmesan cheese
Image Sources: