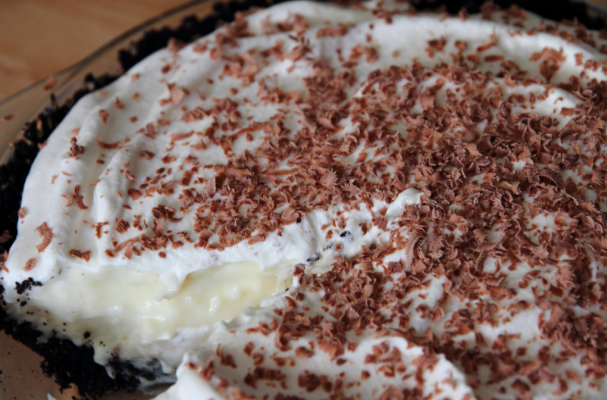 Inspired by the classic candy bar, this Almond Joy cream cream pie is perfect for coconut lovers. A rich Oreo cookie crust is filled with a homemade coconut custard and topped with chocolate, toasted shredded coconut, sliced almonds and whipped cream. The best part about this pie is that it doesn't require you to turn on the oven. The only cooking required is preparing the coconut custard on the stove top. You can make this pie in advance and let it hang out (wrapped up tightly) in the fridge until you're ready to serve. Almond Joy cream pie is truly an indulgent dessert.
Almond Joy Cream Pie
Oreo Cookie Crust:
1 package original Oreo cookies
4 tbsp butter, melted
Coconut Filling:
2 tbsp + 2 tsp cornstarch
1 cup milk
1/2 cup half & half
1/2 cup sugar
1 can sweetened condensed milk
1 1/2 cups unsweetened shredded coconut
1 tsp vanilla extract
Toppings:
chocolate sauce
toasted shredded coconut
freshly whipped cream
sliced almonds
In a food processor, crush the Oreo cookies until before fine crumbs. In a large bowl, combine the crumbs with melted butter and mix until well combined (it should look like wet sand).
Press the cookie crumbs evenly into the bottom and up the sides of a glass 9 inch pie pan, then set aside.
In a small bowl, whisk the cornstarch and 1/4 cup milk together, set aside.
In a pan, combine remaining milk, half & half, sugar, sweetened condensed milk, flaked coconut, and vanilla and whisk over medium heat .
Add the cornstarch mixture to the coconut mixture. Bring the liquid to a boil, stirring constantly with a whisk until thicken.
Once boiling, stir continuously until fully thickened, about 3 minutes.
Pour mixture into crust, then let the pie chill for at least two hours or until it has set. Once pie is firm, garnish with chocolate sauce, toasted coconut flakes, almonds and whipped cream. Refrigerate until ready to serve.
Image Sources: