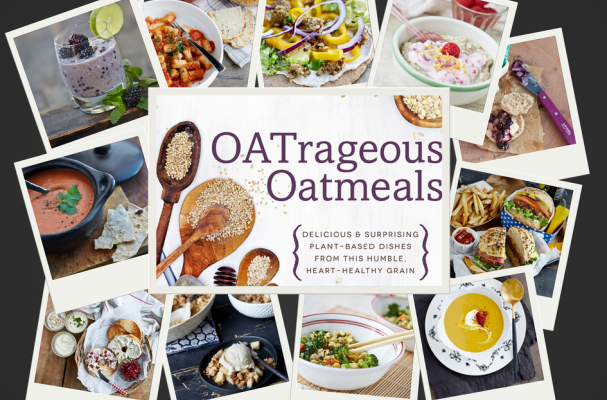 My friend Christine Dionese asked me the other day if I'd consider publishing her on Foodista. And it got me thinking, why should I stand to have all the fun? I should share a bit, this place in the spotlight!
Take it away my friend!!!
Today is an exciting day in the publishing world- friend and best-selling cook book author, Ms. Kathy Hester is releasing her latest collection of original vegan recipes! This time, her kitchen adventures feature, as she puts it, the "humble, heart-healthy grain," oats, in OATrageous Oatmeals. When the post man walked up with my advanced copy last week I ran inside to tear open the package; I'm a bit oat obsessed. I confess that it's always a fight for me to follow recipes, I love to add, subtract, change the texture and so on, but Kathy convinced me with one of her past books, The Great Vegan Bean Book, that some recipes are worth following to the tee to achieve superior taste and intended texture… So, I vowed to do the same with these OATrageous recipes and was pleased with the results!
When people think oats, they often think warm breakfasts, fruit bakes and bars. Kathy gets you thinking in so many more directions right from the get-go with a chapter devoted to DIY Homemade Staples like my new fave, Steel-Cut Oat Sausage Crumbles. Another confession, I'm not a vegan, but I do have a house full of certified Italian-food taste testers, aka my Sicilian grandmother, my aunt and my already-a-foodie two year old daughter. If she likes, it, a recipe "officially" passes the taste-test! Full of the sweet and aromatic Italian herbs marjoram, thyme, fennel and oregano, we all agreed that we'd top our homemade pizzas, baked ziti and even serve as a complement to a cheese and olive board.
If you think you've enjoyed every oat breakfast combination out there, Kathy's pages will definitely inspire more variety in your kitchen. I suggest the Bourbon-scented pecan granola as the cooler days approach this autumn, but for all of you looking for a way to meet the morning heat in the southwestern US states, try the dairy-free Blueberry Earl Grey Overnight Refrigerator Oats and the Coconut Cream Overnight Refrigerator Oats.
And, I can't not mention that Kathy includes an Oat Liqueur of gluten-free Jameson Whiskey, agave, vanilla, oats and a few other signature ingredients. Serve this over ice cream and in coffee and let guests be surprised when you reveal oats as the secret ingredient.
I'm a kitchen rebel, I have a scary chopping technique, barely pull out measuring devices and combine ingredients that some people would never even consider, but Kathy's recipes have converted me to "follow the directions." Sure, add your own twist or better yet, experiment with one or two of her oat recipes at a time to create a sweet and savory combo, but follow her recipes in your own kitchen and you'll find yourself stocked with an entirely new repertoire of healthy, nutritious plant-based gourmet!
And now, on to the recipe. Let us know which ones become your favorites!
Steel-Cut Oat Sausage Crumbles
Gluten-Free, Soy-Free, Oil-Free
Makes about 2-3 cups
What You'll Need:
1 cup water
½ cup steel-cut oats
2 tsp rubbed sage
2 tsp marjoram
1 ½ tsp granulated garlic
1 tsp basil
1 tsp fennel seeds
1 tsp thyme
1 tsp oregano
¼ to ½ tsp salt, or more, to taste
¼ cayenne, or to taste
¼ black pepper
¼ tsp ground or regular rosemary
Putting It Together:
1. Preheat oven to 350 F and cover a baking sheet with parchment paper.
2. In a saucepan, add the water and oats, bringing the mixture to a boil before lowering the heat. Cook covered for 10 minutes. Mix all the other ingredients in a bowl and set aside.
3. Uncover the oats and cook for an additional 5 minutes while stirring to release some of the moisture. Remove the oats from the heat and add in the spice mixture, mixing well.
4. Spoon the oats mixture on the parchment paper and try to distribute it as evenly as possible. Use a second piece of parchment paper to cover the mixture, flattening it as much as possible.
5. Bake for 10 minutes, and then remove the pan from the oven. Cut lines into the sausage with a spatula. You aren't trying to move it; this just makes more room for the steam to escape.
6. Bake for 5 more minutes. Then scrape and break the sausage into pieces.
7. Bake for 5 more minutes until it is easily crumbled. Use as a pizza topping or freeze for another time!
Note:
I baked mine for an additional 5 minutes at the end. Maybe it's my oven or perhaps I just loved the idea of crispy crumbles, but the extra few minutes made a big difference to create a lasting "crumbly" texture.
Thank you Christine!!!!