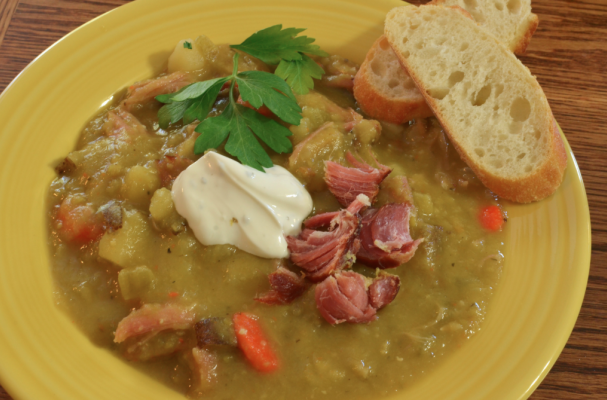 Split pea soup is the kind of recipe made for the slow cooker. All the ingredients, except for the bacon, are dumped in the slow cooker and left to cook all on their own - all you have to do is remember to turn it on. Bacon is used in place of ham hock to give this soup a smoky, meaty flavor. I found that the best way to cook bacon is in the oven. While there is a nostalgic quality of cooking bacon in a cast iron skillet, tendering to each piece lovingly as it cooks, it can be messy and time consuming. This method is great because you don't need to baby sit the bacon and clean up is a snap. Also, another not-so-traditional ingredient in this soup is miso paste. It not only flavors the dish by adding salt but an umami quality too. You'll love this new twist on classic split pea soup.
Slow Cooker Split Pea Soup
1 package of bacon
3 celery stalks, diced
3 medium carrots, diced
1 medium onion, diced
2 garlic cloves, finely minced
4 cups dried split peas
5 cups chicken stock (store bought or homemade)
4 cups water
3 tablespoons white miso paste
3 springs of thyme, leaves removed
1/2 teaspoon freshly ground pepper
Preheat the oven to 400 degrees Fahrenheit. Line a baking sheet with foil and place a wire rack on top of it (you can also use an oven rack). Arrange the bacon in a single layer on the baking tray (they should not be overlapping). Bake the bacon for 12-15 minutes or until golden brown and crisp. Remove the bacon from the oven and place on a plate lined with a paper towel to soak up the excess grease. Once cooled, crumble the bacon and set aside.
Meanwhile prepare your vegetables. Dice the celery, onions, and carrot and mince the garlic. Place the vegetables in the slow cooker and split peas, miso paste, bacon pieces, freshly ground black pepper, thyme, water and chicken stock. Stir all the ingredients together until combined.
Cook the soup for 3 to 4 hours on high or 6 to 8 hours on low until split peas have become soft and soft has thickened. Taste and adjust seasoning as needed.
Note: For a vegetarian version of this recipe, leave out the bacon and substitute the chicken stock for vegetable stock. I would add a dash of curry powder to add a smoky element.
Image Sources: