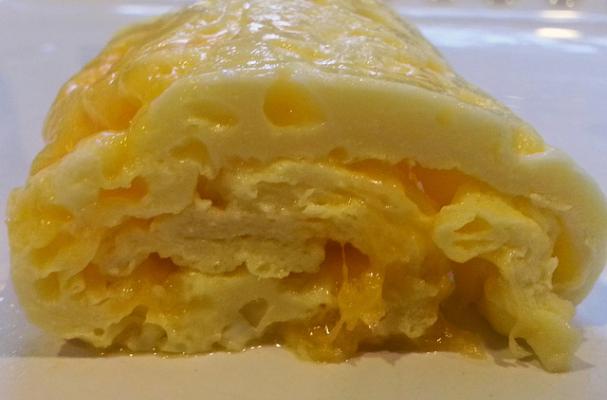 No need to dirty a pan, we've got a 90-second way of making a fluffy and easy cheese omelette - in the microwave! We've been scrambling eggs (what we call "Puffy Eggs" as they puff up soufflé-style while cooking) in the microwave for some time and decided to try the same technique to create an omelette. The result was awesome (both to watch and eat!) and was the perfect quick and easy breakfast that was literally done in under 2 minutes. No spatula, no frying pan, no worrying about flipping it just so or sticking to the pan. This omelette is light and airy and oh so scrumptious! Sorry, omelette pan, you've been replaced.
Microwave Cheddar Cheese Omelette
Makes 1 two-egg omelette
Thoroughly whip two eggs in a small bowl.
Lay a large piece of plastic wrap over a microwave safe plate (or use a non-stick Silpat mat).
Pour egg over plastic and spread out into a large circle.
Top with grated or sliced cheese.
Place in microwave and cook on high for 90 seconds (time may vary according to individual microwaves, so keep an eye on it around 1 minute). Watch as it beautifully puffs up!
Remove omelette from microwave and gently fold the omelette in thirds.
Season with salt and pepper and serve.
Optional additions:
Diced green onion
Bacon bits
Goat cheese or your favorite cheese
Spinach (just place the whole leaves on the egg!)
Fresh herbs
For an on-the-go breakfast wrap:
Wrap up folded omelette in the same plastic it cooked on, twisting the ends to seal. Or, roll it up in a flour or corn tortilla.