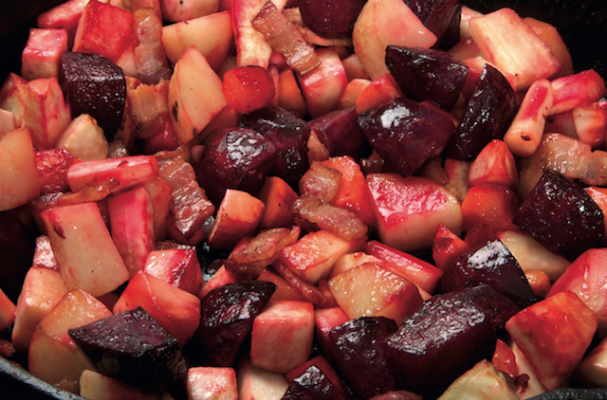 Preparing a holiday meal for friends and family can be a daunting task. With easy dishes like roasted root vegetables from Michael Ruhlman's new book, How to Roast, dinner can be a little more stress-free. How to Roast showcases this very basic and fundamental by illustrating the myriad of ways this method is used in the kitchen. This book's focus centers around roasting all kinds of foodstuffs from lamb, chicken, fish to fruits and vegetables; learning to perfectly roast a chicken becomes just as important as roasted root vegetables. If you love to entertain but simply don't have the time, mastering the art of roasting is the perfect way to make a crowd pleasing meal with minimal effort.
Roasted Root Vegetables
SERVES 6
ROASTING A VARIETY OF ROOT VEGETABLE IS AN ESSENTIALLY nutritious way to offer diverse, complex flavors. The star here is the beet, which not only adds great flavor and sweetness but also gives otherwise drab vegetables a dynamic and inviting hue. The method follows the dame mandates as for roasted potatoes: high heat, animal fat (here, from bacon) for crispness and flavor, and the moist onion added midway through cooking. Vegetable or olive oil can replace the bacon fat if you wish, but I appreciate the way the smoky cured flavor of bacon brings all the flavors together. I prefer lardons, thick batons of bacon I cut from slab bacon; thick-cut bacon is fine it that's all that's available to you. Finally, all this starch and sweetness benefits from a bit of acid, so I finish with a sprinkling of red wine vinegar (and some more fat—this time, olive oil.)
1/4 pound /110 grams bacon lardons or thick-cut bacon, cut into strips
2 parsnips, peeled and cut into bite-size pieces
2 small red beets, peeled and cut into bite-size pieces
1 celery root, peeled and cut into bite-size pieces
2 Yukon Gold potatoes, peeled and cut into bite-size pieces
2 carrots, peeled and cut into bite-size pieces
1 Spanish onion, cut into large dice
5 to 10 garlic cloves, halved
Kosher Salt
2 teaspoons red wine vinegar 1
tablespoon extra-virgin olive oil
Preheat the oven to 425°F/220°C (or 450°F /230°C if your oven is clean; use convection at either temperature if you have it)
COOK the bacon over medium heat on the stovetop until the fat has rendered and the bacon is tender, about 15 minutes (this can be done in a skillet or directly in the roasting pan you will use for the vegetables).
COMBINE the bacon and rendered fat with the parsnip, beets, celery root, potatoes, and carrots in a roasting pan, stirring well to coat the vegetables in fat. ROAST for 20 minutes. ADD the onion and garlic, and 2 or 3 generous pinches of salt to the pan and STIR to distribute the onion and garlic. Continue to COOK until the vegetables are browned and tender, another 40 minutes or so, stirring again if you wish.
REMOVE the pan from the oven and GIVE the vegetables a generous grinding of black pepper. SPRINKLE the vinegar over the top, followed by the olive oil. TOSS and then SERVE immediately.
Recipes reprinted from Ruhlman's How To Roast Copyright 2014 by Michael Ruhlman. All rights reserved. No part of this excerpt may be reproduced or printed without permission in writing from the publisher. Reprinted by arrangement with Little, Brown and Company