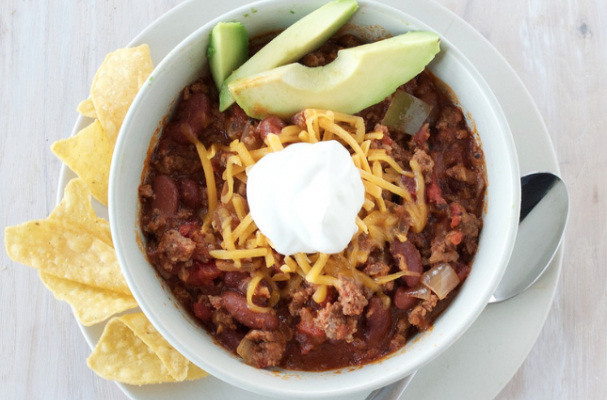 If there is one dish that is a must-have on Super Bowl Sunday, it is chili. The best part about this dish is that it can be made up to 4 days in advance and stay warm in the crock pot during the entire game. This homemade beef chili has a couple secret ingredients that make it stand out among the rest. First, beef chuck is the meat of choice instead of ground beef. This cut is well marbled so as it cooks the fat helps to soften and tenderize the meat so that each bite is like butter. Also, a red enchilada sauce (made from various dried chiles) replaces traditional dried and ground spices. This adds depth of flavor, along with beer, to the dish. Your guests will be obsessed with your delicious homemade chili.
Game Day Beef Chili
Ingredients:
For the chili:
1 pound boneless beef chuck, cut into ½" pieces
kosher salt and freshly ground pepper, to taste
2 tablespoons canola oil or other flavorless oil, divided
2 medium yellow onions, finely chopped
6 garlic cloves, finely chopped
1 tablespoon ground cumin
2 teaspoons dried Mexican oregano
1 chipotle chile in adobo sauce, chopped (remove seeds and rib to reduce heat level)
1 12-ounce bottle lager
1/4 cup red enchilada sauce*
4 to 5 cups low sodium beef broth
For the toppings:
sour cream
shredded cheddar or other cheese
chopped red onion
chopped cilantro leaves
sliced avocado
pickled jalapenos
tortilla chips
Directions:
Step 1: Remove the beef chuck from the fridge and allow the meat to come to room temperature, about 30 minutes. Season generously with salt and pepper.
Step 2: Heat 1 tablespoon of oil in a large pot or Dutch oven. Add the meat to the pot and allow to brown on all sides, about 5 to 7 minutes. Transfer the meat to a plate and set aside.
Step 3: Add the other tablespoon of oil and add the onions and garlic, taking care to scrape up the residual brown bits left from the beef. If the pan appears too dry, feel free to add a tablespoon or two of water to help loosen them. Cook the onion, stirring occasionally until fragrant and appears translucent, about 5 to 7 minutes. Add the cumin, oregano and chipotle chile and stir the mixture until the ingredients are combined.
Step 4: Add the beef back to the pot and add the beer. Bring the mixture to a boil and then reduce to a gentle simmer until almost all the liquid has disappeared. Add the enchilada sauce and the beef broth to the pot. Make sure all the meat has been submerged in the liquid. Continue to simmer the chili until the meat is tender, about an hour and a half. Taste and adjust seasoning as necessary.
Step 5: Serve chili with your favorite toppings including sour cream, shredded cheese, onions, jalapenos, cilantro, avocado and tortilla chips.
*Note: Depending on which brand of enchilada sauce you use, you might need to balance the flavors with a pinch of sugar.
Image Sources:
Categories: