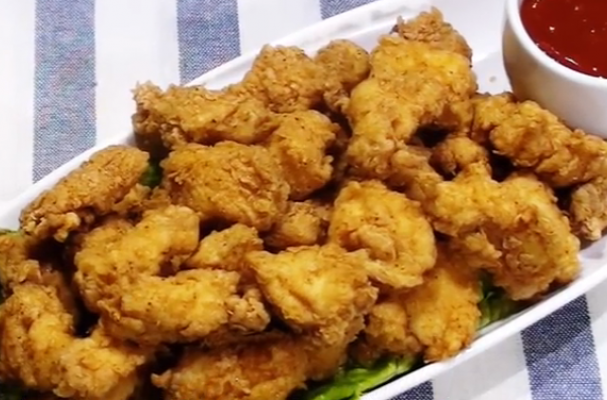 Popcorn chicken is easily one of the most irresistible meals on the planet. Kentucky Fried Chicken (KFC) made this finger food a hit and now you can make a copycat version at home. Bite sized chicken tender pieces are breaded and deep fried until golden brown. Once you have nailed this recipe, you can use the same technique to make popcorn shrimp. However, the cooking time will dramatically decrease since seafood cooks in seconds. Serve your popcorn chicken in fun container (like a popcorn box) with a variety of dipping sauces including ranch, barbecue, and honey mustard.
Copycat KFC Popcorn Chicken
Recipe from A's Cookbook
Ingredients:
For chicken:
2 chicken breast filets
1/2 tsp. salt
1/2 tsp. freshly ground black pepper
1 tbsp Soy Sauce
1 medium egg
1 tbsp corn starch
For coating:
1 cup all purpose flour
1 tbsp red chilli powder or paprika
Oil for frying
*Note: You can also add any spices of your liking including garlic or onion powder.
For full recipe instructions, watch the video below.
Image Sources: