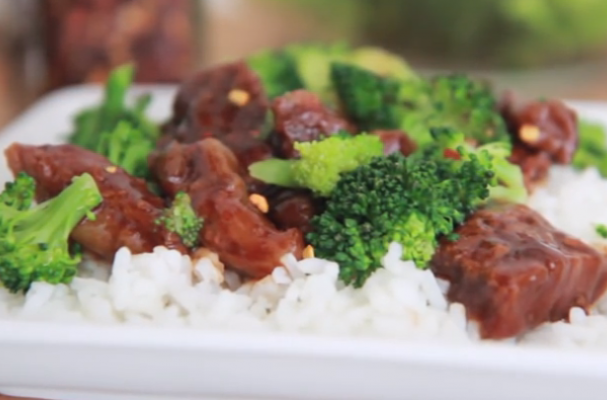 Beef and broccoli is a favorite takeout meal that you can easily prepare in the crock pot. You will want to use an inexpensive cut of steak for this recipe, like flank steak or skirt steak, because they will cook at a low temperature for several hours which yields a more tender, flavorful meat. The starch of choice is of course, rice so that the grains can soak up that wonderful sauce. If you have leftovers, try tossing them with egg noodles and scrambled eggs for an easy chow mein.
Crock Pot Beef and Broccoli
Recipe from Divas Can Cook
Ingredients:
1.2 lbs steak (I used flank steak), cut into strips
1/2 cup white or yellow onions, diced
3 cloves garlic, minced
fresh ginger, grated (optional)
1 cup chicken or beef broth, warmed
1/2 cup low sodium soy sauce (I like Kikkoman)
1/3 cup brown sugar, packed
1 tablespoon sesame oil
1/4 to 1/2 teaspoon red pepper flakes
2 to 3 tablespoons cornstarch, to thicken
3 to 4 cups fresh broccoli, steamed
white rice, prepared
red pepper flakes, for garnish
sesame seeds, for garnish
For full recipe instructions, watch the video below or click here.
Image Sources: