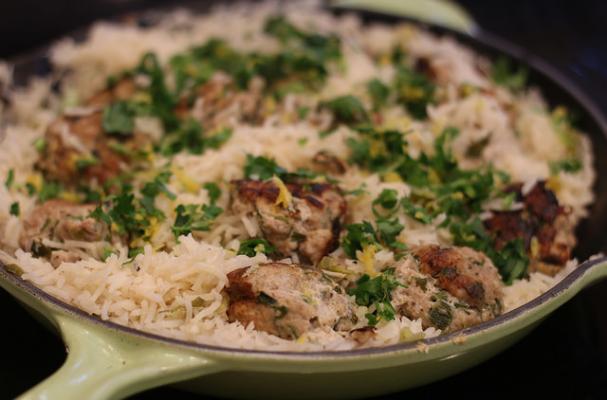 We love easy weeknight dinners, especially those that use only one dish! This delicious turkey meatball recipe was an instant hit with the family and took just under 30 minutes - from prep to table - to make. Best of all, you can serve it right out of the skillet. The tender, herb-filled meatballs are first browned then simmered in fragrant lemony rice. Top the finished dish off with the bright flavors of fresh lemon zest, chopped parsley and green onions. We think you're going to love it, too!
Easy One Skillet Turkey Meatballs with Fragrant Lemon Rice
Serves 4-6
Adapted from Cook's Country
1 1/4- 1 1/2 pounds ground turkey
1 cup breadcrumbs such as panko
1 egg
6 green onions, white and green parts, thinly sliced and divided
1 large bunch (about 3 tablespoons) of flat leaf Italian parsley, chopped and divided
The zest two lemons
The juice of one lemon
1/2 teaspoon each salt and pepper
A good glug (about 2 tablespoons) of olive oil
1 1/2 cups long grain white rice (jasmine or basmati is also delicious)
3 cloves garlic, minced
3 1/4 cups chicken stock
With clean hands mix turkey with breadcrumbs, egg, half of the green onions, half of the parsley, the zest of one lemon, salt and pepper. Form into meatballs and set aside.
Heat olive oil in a large skillet over medium-high heat. When oil begins to shimmer add meatballs and cook all all sides until browned, about 5-7 minutes. Transfer to a paper towel-lined plate.
Leave oil in skillet and add rice, chicken stock, the juice of one lemon, and garlic. Bring to a boil then add meatballs. Reduce heat to a low simmer, cover and cook until liquid has absorbed, about 20 minutes.
Remove from heat and garnish with the remaining green onion, parsley, and lemon zest.
Serve right out of the skillet!