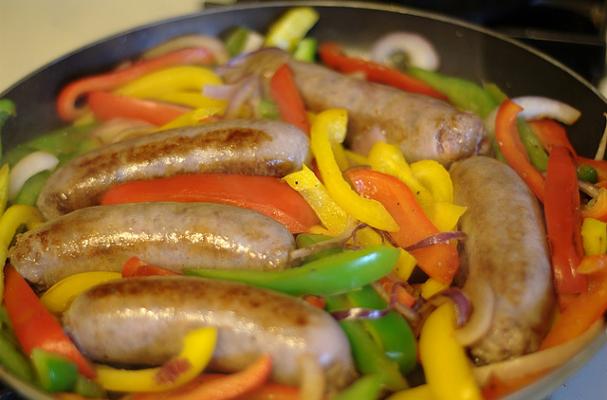 Fans of sausage and pepper are going to love this quick and easy skillet dinner. Sweet peppers, onions and smoked sausage are combined with rice to make a dynamite one pot meal. One bite and you will be addicted to the bold flavors found in this dish.
Skillet Smoked Sausage and Rice
Ingredients:
3 cups rice (your favorite variety)*
1 tablespoon olive oil
1 (12 oz.) package smoked chicken sausage
1 yellow onion, thinly sliced
3 assorted bell peppers (green, yellow, red, or orange), thinly sliced
2 garlic cloves, finely minced
2 to 3 tablespoons tomato paste
1 cup low sodium chicken stock
1 teaspoon hot sauce, or more if desired
1 teaspoon smoked or sweet paprika
1 teaspoon ground cumin
2 tablespoons finely chopped Italian flat leaf parsley
kosher salt and freshly ground black pepper, to taste
Directions:
Step 1: Cook rice according to package directions. Meanwhile, prepare the sausage and vegetables.
Step 2: Heat olive oil in a non-stick skillet over medium-high heat. Add the sausage and cook the slices until browned. Remove from pan and set aside. Next, add the onions, bell pepper and garlic. Saute the mixture until the peppers have softened and the onion appears translucent, about 5 minutes. Season with salt and pepper.
Step 3: Reduce the heat to medium and push he vegetables to the outside of the pan. In the center, add the tomato paste and half of the chicken stock. Stir the paste,stock and hot sauce (if using) until it becomes one cohesive mixture. Add the cooked rice to the pan and season with the cumin and paprika. Mix until well combined.
Step 4: Add the sausage back to the pan along with the remaining stock. Mix again so all ingredients are incorporated. . Place a lid on it and continue to cook for another 5 minutes. Taste and adjust seasoning as necessary. Garnish with fresh chopped parsley.
*Note: You can also used leftover rice for this recipe.
Image Sources: