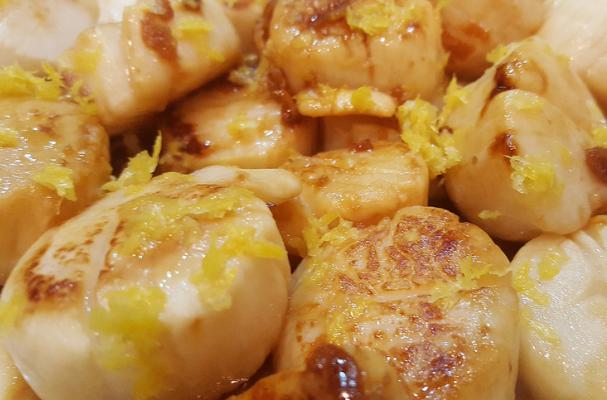 First, pour yourself a nice glass of dry white wine. Chardonnay, Pinot Grigio, Sauvignon Blanc or Viognier, it doesn't matter much as they all will go well with what we're making. Seared scallops. This dish is easy and takes just minutes, so round up the troupes because dinner will be ready soon.
Next, take your scallops out of the fridge. You bought dry-packed scallops, right? Always buy dry-packed, never wet. Those are just filled with water and nasty chemicals and will turn to mush when you cook them. Place your scallops on a clean paper towel and gently pat them dry. This will ensure a good sear (wet scallops will not brown!). Get a nice large lemon, zest it, then juice it into a small bowl. Take a sip of that wine.
In a large skillet, heat a glug of olive oil (that's a tablespoon or two, depending on how many scallops you're cooking) over high heat. Once the oil begins to look shimmery, gently add the scallops, making sure they aren't touching. Sear for about a minute and a half, then carefully turn over and sear another minute and a half, adding the lemon juice right at the end.
Remove scallops to a serving dish. Pour a splash of your wine (about a quarter cup) into the pan to deglaze, scraping the bottom to remove the tasty bits. Season with a pinch of salt and a few cracks of white pepper. Cook for about a minute or until you no longer smell the alcohol (put your nose down there and give it a whiff). Pour the luscious sauce over the scallops and garnish with the lemon zest.
Take a sip of your wine and head to the table for your delicious meal that took no time at all.
Serve your scallops as is or atop fluffy rice or buttery noodles.