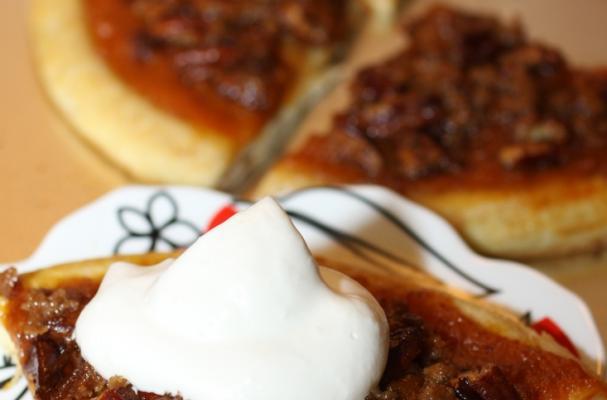 Playing around with food is one of my favorite pastimes. Dessert pizza is a fun way to try new flavor combinations and make unique treats that the whole family enjoys. The fall flavors of pecan and pumpkin pies are transformed into a dessert that allows you to indulge in the whole pie! Dessert pizza boasts a crispy individual pizza crust, and still has the same creamy, rich pie filling you know and love. Don't even get us started on that fabulous maple flavored whipped cream. It's divine!
Pecan Pumpkin Pie Dessert Pizza with Maple Whipped Cream
Ingredients
1/2 cup pumpkin pie filling
1 mini pizza crust
1 tbs butter
2 tbs brown sugar
1/4 cup chopped pecans
1/4 tsp pumpkin pie spice
1 cup heavy cream
2 tsp maple syrup
Preparation
Preheat oven to 425 degrees.
Melt 1/2 of the butter and 1 tbsp brown sugar in a small skillet.
Brush onto on side of pizza crust.
Place on a baking sheet and bake for 3 minutes.
Meanwhile, add the rest of butter and 1 tbsp brown sugar to the skillet again.
Image Sources: