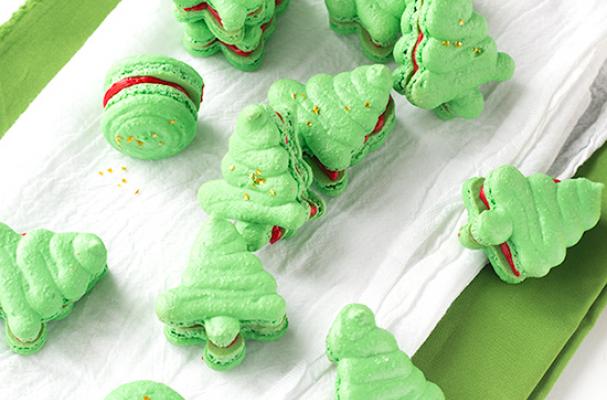 Wondering what to do on a lazy Sunday? Make Christmas macarons! It's day 3 of "THE 12 DAYS OF CHRISTMAS COOKIES" and today I'm featuring these simply gorgeous French macarons from Cookie Dough and Oven Mitt. Her delicate green Christmas trees are filled with a vibrant red vanilla frosting making them almost too pretty to eat! Put them into pretty jars with a festive ribbon tied around the rim of the lid or wrap them up in holiday cellophane baggies to give as gifts.
And, oh joy!, they're gluten free too! Let's get baking, friends!
Don't miss Day 1's Speculoos: Traditional Belgian Spiced Cookies and Day 2's 3 Festive Chocolate Bark Recipes You'll Want to Make this Holiday Season.
Christmas Macarons
Contributed to Foodista by Cookie Dough and Oven Mitt

Macaron Shell:
1 cup Bob's Red Mill almond flour
1 + ½ cup powdered sugar
3 egg whites room temperature
¼ cup granulated sugar
pinch of salt
¼ tsp cream of tartar
½ tsp vanilla extract
4 drops leaf green gel paste color
Frosting:
1/2 cup butter room temperature
1 + 3/4 cups powdered sugar
3 T milk
1 tsp vanilla extract
6 - 8 drops super red gel paste color
Preparation:
Print out 2 copies of the Christmas tree template here.
Line a baking sheet with parchment paper. Line the two templates up underneath of the parchment paper.
Sift together the almond flour and powdered sugar. If you can't find almond flour you can always make it with almonds and a food processor. Finely grind the almonds and sift through a fine mesh sifter. Discard or snack on any large pieces.
In a large mixing bowl, add in egg whites. Turn on high and beat until the egg whites form a soft peak meringue.
Add in the granulated sugar, salt, vanilla extract, and cream of tartar. Mix on high until a stiff peak meringue forms. I slowly but constantly add in the granulated sugar into the meringue instead of tossing it all in at once.
Add in the leaf green gel paste color and give it a quick mix to incorporate.
Very lightly and carefully fold in a third of the almond flour/powdered sugar into the meringue with a spatula. Repeat with the rest of the almond flour/powdered sugar mixture. All together you'll want to have about 59 turns of this mixture. If you don't mix enough the macaron shell will be extremely fluffy and cracked. If you over mix, the macaron shell will be extremely flat and might not form a foot.
Preheat oven to 300 degrees.
Fill a piping bag with the macaron shell filling. I used a #12 wilton tip on the end of my piping bag. Pipe macaron shells on the baking sheet following the christmas tree template. Pipe the trunk first and then start from the bottom of the tree and go back and forth to the very top of it. Watch the video below to get a better idea.
Sprinkle a few of the edible golden stars onto the freshly piped macarons.
Let the macarons dry until they are no longer tacky to the touch. It will take 20 minutes to 1 hour.
Place in the oven for about 10 minutes until they no longer stick to the parchment paper.
Let the macaron shells cool.
Match the macaron shells together according to size and shapes that best fit together.
In a large bowl, add in the butter, powdered sugar, milk, and vanilla. Mix on medium until incorporated. Turn mixer on high and beat for another 1 - 2 minutes until light and fluffy.
Add super red gel paste food color to the frosting. Add enough to give a bright red. Stir to incorporate. Be sure to scrape the bottom of the bowl to get all of the food color.
Place frosting in a piping bag with a small tip, such as a #7 Wilton tip.
Pipe the outline of the macarons and fill in the center. Add the top shell.
Store in an air tight container.