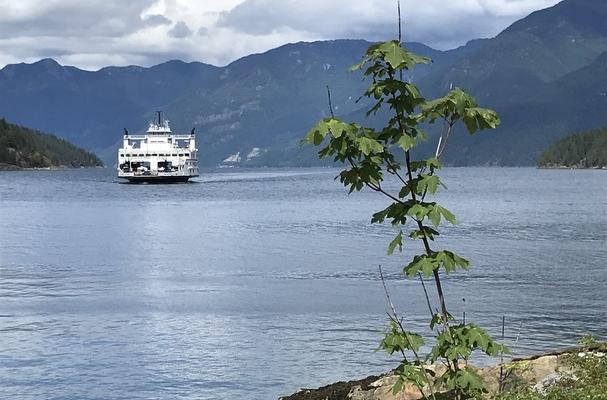 Part 1 Powell River: Getting There Is So Much Fun!
The Sunshine Coast is just east of Vancouver Island and is best reached via the BC Ferry system. If you are traveling from Vancouver, BC, that is less than a six-hour drive; from Seattle, it is closer to seven or eight hours. However, time will fly because of the beautiful views of the dramatic coastline and snow-capped mountains. And, if you are lucky, you might even see some seals sunbathing!
If you are looking for quicker access, there are plane flights from locations in British Columbia. The Sunshine Coast is a peninsula, not an island. However, you can't access it by road from the mainland.
Weather or Not
With many outdoor plans, it is essential to check out the weather. From the middle of May to the middle of September, high temperatures are at least in the mid 60's. May to September are also usually the driest months of the year. During this period, river water temperatures are close to 60 degrees, with at least 12 hours of daylight – so plenty of time for fun! If you want to save money on lodging, consider booking your stay between the end of May and early June or between Labor Day and the end of September. During these periods, you can enjoy excellent conditions and take advantage of some great deals.
Lodging
Powell River, the main city in the Northern Sunshine Coast area, is a small community with a population of 14,000. We stayed at Beach Garden Resort & Marina, where each room has a patio with an ocean view of Vancouver Island and the coastal mountains. Although the beach access was convenient (and tempting!), we chose to wait to launch our kayak as it was dinner time at the Seasider Bistro next door.
Food and Brews
You would be hard-pressed to beat this dining experience in Powell River. They upped their game when they recently brought in award-winning Chef Vibhuti Bane. He has an extensive resume from London and India. The appetizers of Mushroom Caps stuffed with shrimp and crab were delightful. The big hit for the evening was the Seafood Laksa with Prawns, scallops, clams, and mussels in a creamy curry sauce. They have a great collection of British Columbia wines, and we really enjoyed Hester Creek's pinot blanc. After dinner, we took a stroll back to the hotel while enjoying the last of the beautiful evening.
The Coastal Cookery is a popular local eatery in Powell River, as many of the servers were on a first-name basis with the guests. After a cloudy spring day, we were looking for a warm-up. The Squash Soup with crispy fried vegetable bits sure hit the spot. It was creamy and very flavorful. The taste of the soup was a delicate balance of sweetness and subtle savory notes with layers of flavor. We both considered ordering another bowl.
Base Camp Coffee + Food +Art
Base Camp Coffee + Food +Arts opens at 8 am; we arrived at 7:45, and there was already a line outside! This cool, early morning brought in many thirsty and hungry customers. Once inside, the servers moved fast and brought us delicious hot coffee and the Feta Florentine Breakfast Sandwich. This tasty sandwich was excellent with their expresso, made from house-roasted beans. While finishing our coffee, we enjoyed looking at the art from the local artists on display around the cozy room. As we were leaving, we bought some oatmeal cookies and savored them later after our kayak adventure. Base Camp has another location at the Townsite Public Market. The market is home to other small local businesses offering freshly baked bread, locally grown vegetables, bulk herbs and teas, a children's boutique, and many other interesting-looking stores.
Across the street from the Townsite Public Market, Townsite Brewing offers a nice inside tasting room and a spacious, kid-friendly patio space. For the beer tasting, my favorite was the Sun Coast Pale Ale, which is refreshing and one of their more popular beers. My second favorite was also their second most popular beer served, the Zunga Blonde Ale with light hops. Also, I must have liked the Toba Inlet Lager because I took some home to enjoy. It is light and crisp and is a dry-hopped lager (which means that hops are added after fermentation). Elizabeth loved the Tin Hat IPA, which features a delightful blend of pine and citrus flavors and a pronounced hoppy taste balanced by the smoothness of the malts.
Located at The Old Courthouse Inn and adjacent to the Townsite Public Market, the Old Courthouse once housed the courts, jail, and police station. Now the remodeled building is a hotel and Edie Rae's Café. JP is the co-owner of the Café and named it in honor of his mother, Edie Rae, a former waitress in Powell River. Edie Rae was also a competitive swimmer and, as a good Canadian, an enthusiastic curler.
We thoroughly enjoyed breakfast. Elizabeth had Edie Rae's Bene, which was two perfectly poached eggs on fresh biscuits with back bacon and Hollandaise sauce. I had a delicious omelet, but the highlight was truly the house-made blackberry jam. I never use jams or jellies, but this was too tempting. Delicious!
Kayaking
We had our trusty inflatable kayak and launched on Powell Lake at Mowat Bay Beach. We paddled several miles and noticed that this vast and beautiful lake goes for 32 miles. We were more than happy with our three-mile paddle. If you go kayaking, you must check your gear and the weather.
We noticed some paddleboards being dropped by the rental company Palli Paili. They have rentals available from April through October. Another boat launch is at the lake adjacent to the Shingle Mill Pub & Bistro. We heard from excellent sources that the food there is wonderful. Too bad we just had lunch. Continue reading Part 2 here.
Editorial disclosure: food, beverages, and lodging were generously provided.
Image Sources:
Townsite Brewing (image 4)
Categories: