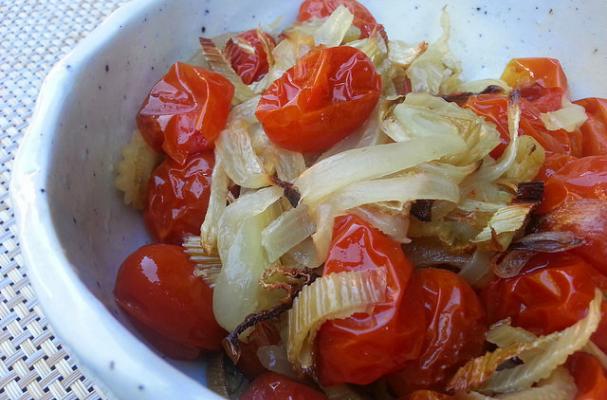 This easy side dish is both healthy and the perfect accompaniment to any meal. Barbecue grills can quickly get overcrowded, so this scrumptious dish can be roasting in the oven while you grill outside! The flavors of cherry tomatoes, fennel and onions deepen and sweeten when roasted making it a dish that pairs beautifully with any meat, fish, or simply spooned over grains or pasta for a vegetarian (or vegan) meal. Just slice and bake - that's it!
Easy Oven-Roasted Cherry Tomatoes with Fennel and Onion
Makes 4 side servings
1 onion (yellow, red or white), sliced
1 small bulb fennel, sliced (save fronds for other use)
3-4 cups cherry tomatoes, left whole
Olive oil
Kosher salt and pepper to taste
Preheat oven to 400 degrees.
Slice onion and fennel and place in a bowl. Add tomatoes. Give it a good glug of olive oil (about 3 tablespoons), season with salt and pepper, and toss until coated.
For easy cleanup, line your dish or baking sheet with foil. Spread tomato mixture over the pan and bake until tender and onions and fennel are lightly golden brown, about 30 minutes.
Serve immediately.