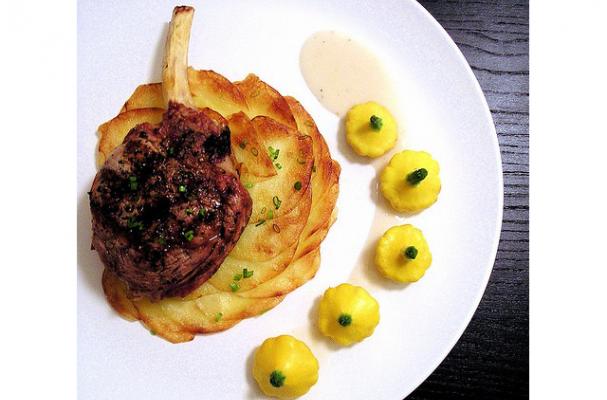 A perfect summer dish! Refreshing citrus flavors, naturally lean veal chops and a spicy Dijon mustard glaze - yummy!
Basil Lemon Grilled Veal Chops
Serves 4
1/2 cup extra virgin olive oil
1 cup fresh basil
1 lemon, juiced and zested
3 cloves of garlic, minced
1 tablespoon Dijon mustard
4 veal chops (approximately 1-inch thick)
In a blender, combine olive oil, basil, lemon juice and zest, garlic and mustard and pulse until basil is minced but not a paste. Combine veal chops and basil mixture in a glass or plastic bowl/ziploc bag (as long as it isn't metal!) and marinate (30 min. at room temp. or 2+ hours in the fridge).
Preheat grill. Cook chops over medium heat for approximately 7 minutes before turning, basting with remaining marinade and cooking an additional 7 minutes or until meat reaches 160 degrees F.
Serve with basil leaves and lemon wedges, rosemary roasted potatoes, summer squash or garlicky sauteed spinach.
Image Sources: