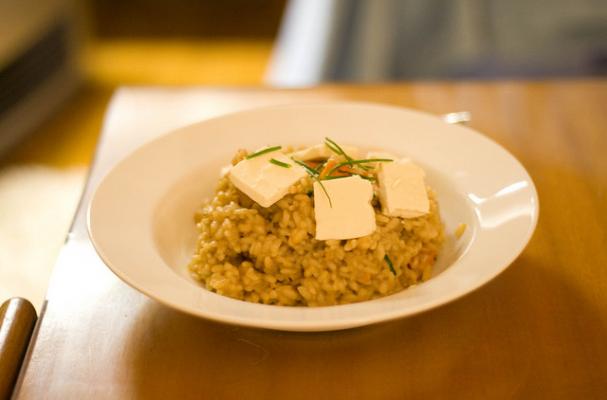 When you think of pumpkin what comes to mind? Jack-o-Lanterns, pumpkin pie and pumpkin spice lattes, right? Well let me tell you, pumpkin is so much more than those sweet treats would lead you to believe! From soups to salads, pastas to savory pastries, pumpkin has a distinct flavor, but can be easily (and fabulously) substituted in recipes that call for any other type of squash (especially butternut or acorn -- spaghetti squash is a whole other matter). Here are 5 of my favorite gluten free, savory pumpkin recipes to show you the pie-free side of this iconic autumn squash.
Hidatsa Stuffed Sugar Pumpkins
Don't let the "sugar" title fool you, sugar pumpkins are small and ideal for cooking! This recipe involves stuffing said pumpkins with herbs and spices, wild rice and ground meat (beef, lamb, chicken) for an unbelievable dish. Vegetarian Option: Use chopped wild or portabello mushrooms in place of the ground meat. Dairy free.
Pumpkin Coconut Curry
Chunks of fresh pumpkin in a rich sea of coconut and garlic make this classic Sri Lankan dish. Dairy free/vegan.
Creamy Pumpkin Risotto with Bacon
This classic Italian dish gets a makeover with creamy pumpkin, crisp bacon and of course, salty parmesan cheese. Delicioso!
Pumpkin Chestnut Pasta
A seemingly uncommon combination, this pasta dish shines with autumn and winter flavors. Perfect for keeping out the cold! Be sure to use gluten free pasta (rotini or fettucini will yield best results). Dairy Free/Vegan Option: substitute non-dairy cream cheese for equally spectacular results!
Wild Mushroom, Balsamic Pumpkin & Curly Kale Phyllo Purses
Balsamic roasted pumpkin, earthy wild mushrooms and super-healthy kale make this a must-try autumn starter! (Phyllo isn't gluten free, you say! It is now.) Dairy Free/Vegan Option: traditional phyllo dough is dairy free/vegan so just substitute dairy-free margarine to brush the dough.
Image Sources: