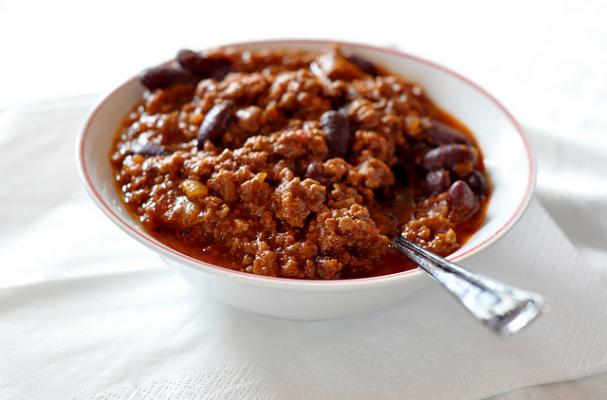 Even though springtime promises warmer weather there are still those chilly nights that require a comforting bowl of something delicious. This gluten-free chili con carne is just that kind of recipe- it is quick, easy, and satisfying. Ground beef is simmered with an array of spices, beans, and tomato sauce spiked with green chiles. Serve your chili con carne with gluten-free tortilla chips and plenty of cheddar cheese.
Ingredients:
2 pounds ground beef
1/2 tablespoon onion, finely chopped or 1 dried onion
2 cloves garlic, minced
1 can Ro-tel (tomatoes with chopped green chilies)
1 can pinto beans or kidney beans
16 oz. can tomato sauce
2 tablespoons chili powder
1 teaspoon dried basil
1 tablespoon ground cumin
1 teaspoon oregano
3/4 teaspoon salt
Optional Toppings:
Corn/tortilla chips
Tofutti American cheese
Tofutti sour cream
Prepared yellow mustard
Preparation:
Cook the beef and onion (or onion seasoning) until brown. Drain off fat.
Stir in remaining ingredients and bring to boil
Reduce heat, cover and simmer 30-45 minutes. Easy and delicious!
Image Sources: