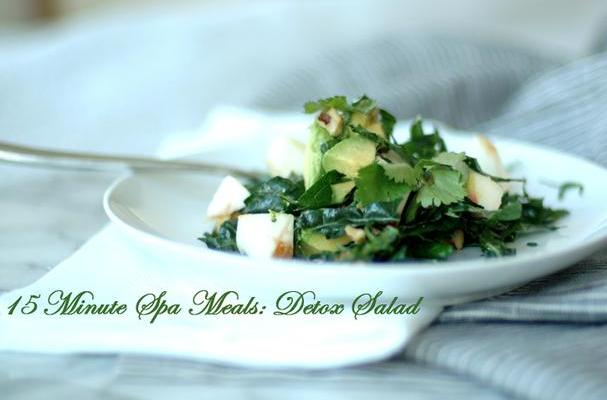 This detox salad is packed with nutrient rich kale (for vibrant skin and a youthful glow), crunchy apples (sweet and fiber packed), toasty almonds (for a protein boost) and a dash of coconut. It's perfect for lunch or a light dinner. For a little more staying power, I recommend pairing this salad with a fresh carrot and celery juice or a creamy avocado toast.
Detox Salad
Serving Size: 1 (370 calories per serving)
Ingredients
1/4 head Tuscan kale*
1/2 – 1 avocado
1 small MacIntosh apple
1 tablespoon extra virgin olive oil
2 tablespoons sliced almonds
Juice of 1/2 lime
Pinch sea salt and pepper
Drizzle of good honey, optional
Learn more about the better-for-you ingredients in this recipe:
Kale – Kale is a nutritional superstar and a health beauty favorite in our quest for radiant skin. It is full of antioxidant and anti-inflammatory benefits that help your body to stay vibrant and youthful.
Olive oil – Good quality fats (including avocados, "cloudy" extra virgin olive oil and nuts), enjoyed in moderation, will actually store in the body as energy and not fat which helps you lose weight in the long run.
Directions
Prepare the kale and slice it into long, thin ribbons. Drizzle with one tablespoon of olive oil, and using your hands, rub the olive oil into the kale leaves; Make sure all the kale ribbons are well coated. (Looking for a little more visual love? Head over here!) After the kale ribbons are well massaged with olive oil, set aside.
In a frying pan over medium heat toast coconut and almonds until just slightly brown around the edges.
Toss coconut and almonds with the kale. Add a splash of lime juice, a pinch of salt and a drizzle of honey. Toss again. Enjoy immediately!