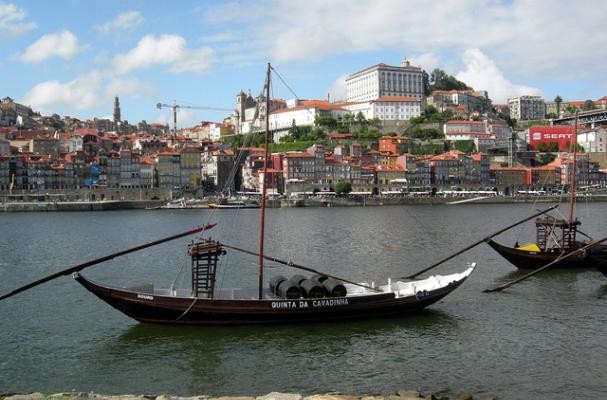 The city of Porto is breathtaking, but when you need to unwind and contemplate all that beauty, what more appropriate beverage than Port? And you don't have to be on the banks of the Douro river to appreciate its serenity-inducing qualities. I learned as much while sitting down with Rupert Symington, Joint Managing Director of Symington Family Estates, and having a leisurely chat while tasting Port. It's definitely a wine that, along with a comfy set of chairs and good company, steers any conversation towards a leisurely pace.
Symington Family Estates owns some of the most prestigious Port houses: Graham's, Cockburn's, Dow's, Warre's, Smith Woodhouse, Quinta do Vesuvio, Gould Campbell, Quarles Harris, and Martinez.. (Whew!) Keeping all these names straight can be a little daunting, and certainly the world of Port appears a bit complicated at first glance. Terms like Vintage, LBV, Tawyn, Ruby, Colheita, Ruby Reserve, 10/20/30/40 Year Old, and...gah! I'm already a bit flustered.
Luckily, Rupert is the kind of guy who can ease your mind about Port in four short words: "We're the unwinding drink." Genius. Instead of fretting about the complexity of the subject, Rupert offers this council to the Port-phobic: "Don't bother to understand it, drink it." Now, of course, Rupert does want you to be curious about Port and explore its storied history and expression in many different forms. But it's nice to have your mind put at ease before you begin that journey, no?
A great place to start getting to know Port (and the region it hails from, the Douro) is with Graham's Six Grapes. As Rupert describes it, Six Grapes has a "...richness and sweetness but with the freshness to carry it off." This one one of the things I noted among all the Ports we tasted that day. "Port-like" seems to be a pejorative comment leveled at many high-octane red table wines, but I was surprised at how balanced these Ports were, with a finish that sometimes seems downright lively. Surely Rupert agreed, throwing down the gauntlet about people's perceptions of Port by stating, " I dare anyone to tell me that's an overripe wine."
We moved on the the Cockburn's Special Reserve. Spending five years in wood before bottling, rather than the two years that Six Grapes receives, it's a Port that, as Rupert poetically puts it, "captures the joy of wood aging." Speaking of wood aging, the amount of work and care that goes into these Port barrels is pretty astonishing. They are refurbished/rebuilt about every decade; Rupert likens them to "an old piece of furniture that has to be looked after."
We left the world of Ruby Ports, represented by the duo of Six Grapes and Special Reserve, and moved on to Tawny Ports. These Ports spend significantly more time in barrel, and the profile of the Port moves from bright, red fruit notes to more deeper, savory flavors of of dried fruits, nuts, and caramel/toffee. Starting with the Graham's 10 Years Old Tawny Port, Rupert revealed that the blend of years made this Port average out to a 12 or 13 Years Old Port. (10, 20, 30, and 40 Years Old Ports are a blend of multiple years: some younger, some older. The idea is to get an average age in the bottle close to that nice round decade number.) The older Port contributes raisin flavors, while the young Port "brings it to life." Turning the clock back a decade, the Graham's 20 Year Old Tawny Port was dubbed by Rupert, "The ideal age for Tawny Port." I noted more richness yet an astonishing freshness on the finish; this is no flabby sweet wine. A nice zip of acidity gave it a surprising refreshing quality.
Finally, it was time to explore Vintage Port, specifically from a vintage Rupert designated, "The year everything came together in the Douro."
Categories: