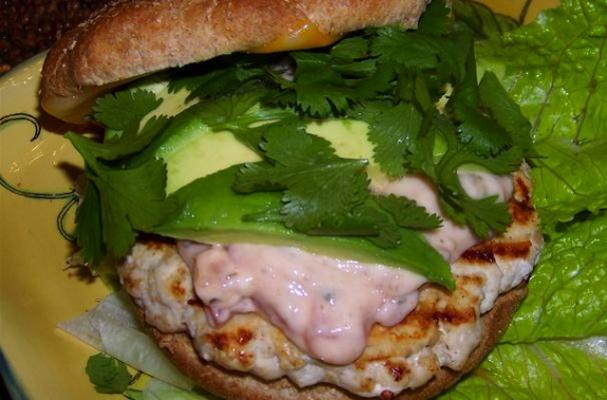 Chicken and avocado burgers will transport you to the beautiful beaches of Mexico. Homemade chicken patties are flavored with cumin, chili powder, and lime juice. Each patty is topped with avocado, cilantro, and a creamy tomato salsa. Instead of French fries, serve these chicken and avocado burgers with fried yucca root or plantain chips.
Chicken and Avocado Burger
Recipe Courtesy of Mother Rimmy's Cooking Light Done Right
Ingredients:
1 pound ground chicken breast
1 medium egg white
1/4 cup oatmeal
1/2 tablespoon chili powder
1 teaspoon cumin
1 tablespoon lime juice
red pepper, pinch
4 tablespoons light mayonnaise
4 tablespoons salsa
4 mediums whole wheat buns
4 slices low fat cheddar cheese
1 cup cilantro, leaves, whole
1 small avocado, sliced
Directions:
Combine ground chicken, oats, egg white, chili powder, cumin, lime juice, and red pepper. Divide into quarters and shape into burger patties.
Combine mayonnaise and salsa in a small bowl and set aside.
Grill burger for 4 – 5 minutes per side until chicken is cooked through. Take care not to over-cook as chicken can be dry.
Toast buns with with cheese until cheese melts.
Place chicken burger on buns and top with salsa, avocado and cilantro.
Image Sources: