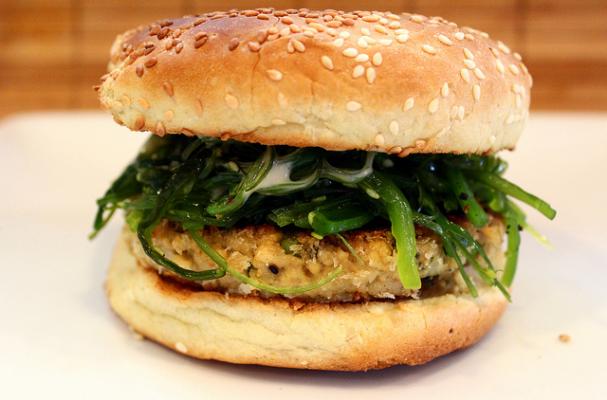 Before you say you hate tofu let me tell you about these bursting-with-flavor burgers. The great thing about tofu is that it's a blank slate as it takes on virtually any flavor you introduce to it. This Japanese-style vegan burger is made flavorful and bright with green onions, soy sauce, sesame oil and my favorite sauce, ponzu (a yuzu lemon flavored soy sauce). It's topped with a spicy kick of wasabi mayo and a wakame seaweed salad. This burger will seriously turn tofu haters into lovers!
Sesame Tofu Burgers with Wakame and Wasabi Mayo
Makes 6 burgers
1 brick firm or extra firm tofu
1 tablespoon light soy sauce
1/2 teaspoon sesame oil
1/2 teaspoon ponzu sauce
1 tablespoon toasted sesame seeds
4 green onions, green and white parts, finely chopped
2 cups panko or unseasoned breadcrumbs, divided (more if necessary)
3 tablespoons corn starch
2 tablespoons water
Olive oil spray for cooking
Wakame seaweed salad
Wasabi (powdered or tube), to taste
1/2 cup vegan mayonnaise
6 buns of your choice
In a large bowl, mash tofu with the back of a fork. Add soy sauce, sesame oil, ponzu sauce, sesame seeds, green onions and one cup panko; mix well and adjust seasoning if needed. Mix corn starch with water, stir to combine. Incorporate into tofu mixture (this will help bind mixture).
Place remaining 1 cup of panko on a plate or shallow bowl. Form tofu into 6 patties (they will be loose). Coat both sides with panko.
Heat a large skillet over medium-high heat. Spray one side of each patty and place in heated skillet. Cook for 2-3 minutes or until nicely golden. Spray the tops of each with olive oil and flip. Cook another 2-3 minutes or until golden brown. Remove from heat.
Season vegan mayonnaise with wasabi to taste. Spread mayo on buns, add a patty to each, top with wakame salad and serve immediately.