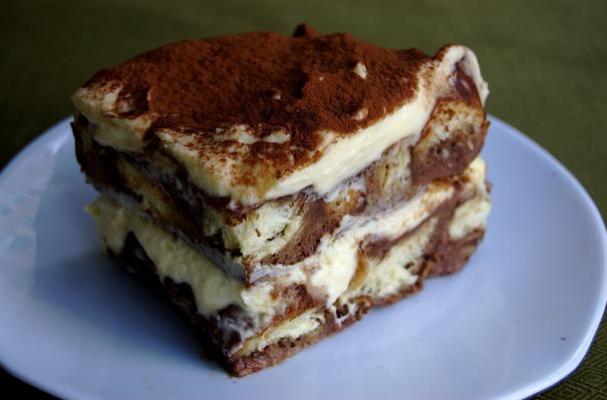 The first time I took a bite of Tiramisu as a college student in Italy I thought I'd died and gone to heaven. Those espresso and rum soaked ladyfingers that were nestled amongst creamy clouds of sweet mascarpone cream then dusted with bittersweet chocolate, oh my!, it was surprisingly rich and light at the same time. Since that first taste I've been a sucker for tiramisu. In this delicious recipe, ladyfingers are replaced with bread (such as brioche or challah) to create a decadent tiramisu bread pudding.
Heaven.
Tiramisu Bread Pudding
Submitted to Foodista by Teanna
Serves 4
For the Bread Pudding:
12 ounces bread (brioche, challah or white), preferably stale
2 cups whole milk
1 1/4 cups heavy cram
1/2 cup strong brewed coffee, cooled
6 tablespoons dark rum
3 large eggs
4 large egg yolks
1/2 cup sugar
6 ounces bittersweet chocolate, finely chopped
For the Tiramisu Cream:
4 tablespoons dark rum
6 large egg yolks
2/3 cup sugar
¼ teaspoon salt
1 pound Mascarpone cheese
¾ cup cold heavy cream

Click here for the full instructions.