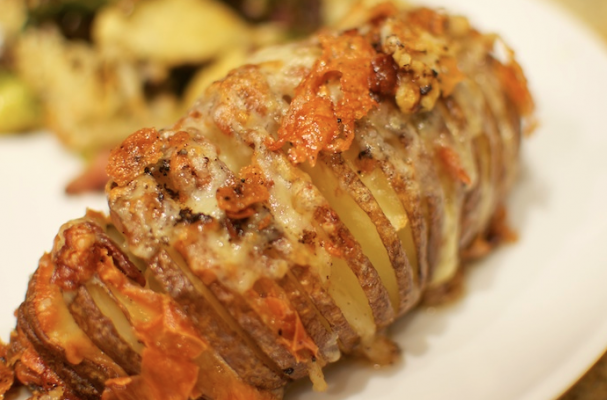 Hasselback potatoes are the ultimate side dish. They are tender, crispy and absolutely delicious. No matter the potato, the technique remains the same. A sweet potato, Idaho baking potato, a Yukon gold potato is thinly sliced almost to the end and fat is spread in between each slice. This helps flavor each and every bite. You can use your favorite fat for this recipe including butter, olive oil, coconut oil or even duck fat or bacon fat if you are feeling especially indulgent. To watch a video tutorial, click here.
Hasselback Potatoes
4 large Yukon Gold potatoes
1/2 stick butter, melted
Kosher salt
Freshly ground black pepper
Preheat the oven to 425 degrees Fahrenheit with a rack in the lower-middle position. Scrub the potatoes clean to remove any excess dirt and pat them dry with a paper towel.
Cut 1/8 inch slits almost to the bottom of the potatoes, leaving them intact. You want the slices to stay connected at the bottom of the potato. With a pastry brush, brush the butter in between the potato slices and on top of the potato.
Arrange the potatoes in a baking dish. Sprinkle the potatoes generously with salt and pepper.
Bake them for 30 minutes and then brush the potatoes with more butter. The fat should be in between each potato slice. Bake for an additional 30 to 40 minutes until the potatoes are tender and the skins are crispy.
Serve the potatoes straight from the oven.
Variations:
Bacon, Cheddar, Sour Cream and Onion- Cut bacon into bite-sized pieces and cook until crispy in a cast iron skillet. 5 minutes before removing the potatoes from the oven, stuff shredded cheddar cheese and bacon into the spaces between the potato slices. Once out of the oven, scoop sour cream and garnish with chopped green onions.
Pesto and Parmesan- 5 to 10 minutes before removing from the oven, sprinkle parmesan cheese in between the potato slices and spoon pesto sauce over the top.
Garlic and Herb- In a small bowl, mix fresh parsley, fresh thyme, minced garlic, fresh rosemary, and breadcrumbs, a pinch of salt and pepper. Melt a couple tablespoons of butter and add it to the breadcrumb mixture. After 50 minutes, remove the potatoes from the oven and spread the breadcrumb mixture on top of each potato. Preheat your broiler to 425 degrees Fahrenheit. Add the potatoes back into the oven, under the broiler, for about 5 minutes or until the breadcrumbs are a golden brown. Remove from the oven and serve.
Image Sources: