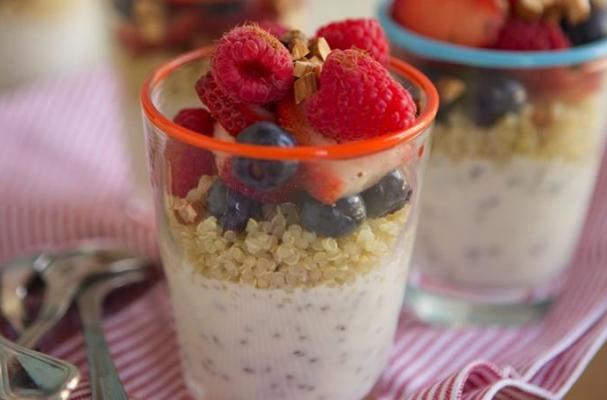 Berry breakfast quinoa is a grab and go breakfast that you can enjoy any morning of the week. These quinoa cups are prepared the night before so that when you are heading out the door, you know breakfast is ready in the fridge. Similar to overnight oats, this recipe is extremely versatile and can be tailored to what you have on hand and your favorite flavors. I like to change mine with the seasons and use the sweetest fruit I can find.
Berry Breakfast Quinoa
Courtesy of Betty Crocker
Ingredients:
1/4 cup milk
2 containers (6 oz each) Yoplait® Original 99% Fat Free French vanilla, strawberry or harvest peach yogurt
4 teaspoons chia seed
1 cup cooled cooked quinoa (1/4 cup uncooked)
2 cups fresh fruit (mixed berries or chopped peaches)
1/4 cup coarsely chopped toasted almonds or pecans
1/8 teaspoon ground cinnamon
Directions:
Step 1: In medium bowl, stir together milk, yogurt and chia seed until blended. Evenly divide mixture among 4 glasses. Spoon 1/4 cup cooled cooked quinoa on top of yogurt layer on each.
Step 2: Top each with a layer of fruit and almonds. Sprinkle with cinnamon. Let stand 5 minutes, or cover and refrigerate overnight.
Notes:
*Chia seed is a delicious addition to this recipe. It thickens the yogurt mixture and adds a nice crunch.
*Quinoa (KEEN-wah) has the highest protein content of all the grains. Its flavor is mild, like that of rice or couscous. Rinse the grain before cooking to remove any lingering traces of its bitter-tasting coating.
*To toast almonds or pecans, sprinkle in ungreased heavy skillet. Cook over medium-low heat 5 to 7 minutes, stirring frequently until browning begins, then stirring constantly until golden brown.
Editorial Disclosure: Foodista was not paid for this post.
Image Sources: